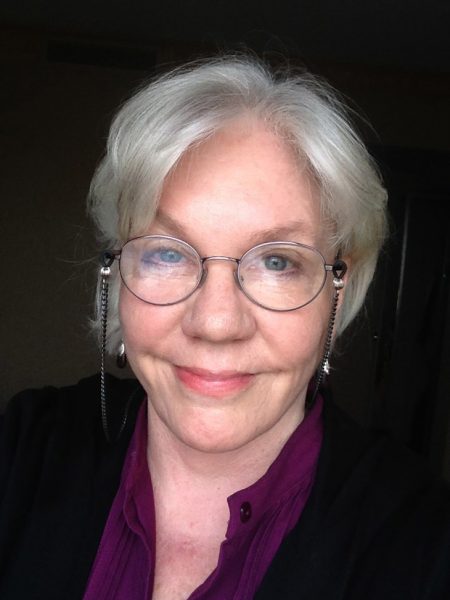 If you want to know why there were long faces in the spring among School of Dramatic Arts students, faculty, staff and administrators, it's because Tina Haatainen-Jones, an associate professor of theatre practice teaching costume design, was retiring.
In her 13 years at SDA, including a decade as head of design (a position that was supposed to last three years), Haatainen-Jones regularly astonished everyone with her range.
But what Trojans are going to miss most is "her sense of humor and her generosity of time, talent and nurturing of students and staff," said Elsbeth M. Collins, SDA's head of production.
"She mentored almost all the costume design students for the past 10 years. This represents between 150-160 shows," noted Collins. "She took genuine pleasure from watching as students initially struggled, then triumphed."
Associate Professor Sibyl Wickersheimer, the current head of design, said the impressive growth of the BFA design program has evolved directly from Haatainen-Jones' leadership. "I will miss everything about Tina," she said. "Somehow, she manages to not intimidate students, but challenges and nurtures them simultaneously and the results are inspiring."
Associate Professor Takeshi Kata said he learned from watching her give critiques to students "with honesty while keeping it light and making it feel supportive."
Kata said he observed her students turn into confident professional artists during their time at USC. "Her deeply caring nature and commitment to the students has always been a guidepost for my own teaching," he said. "I will miss having that effortless integrity she carries with her."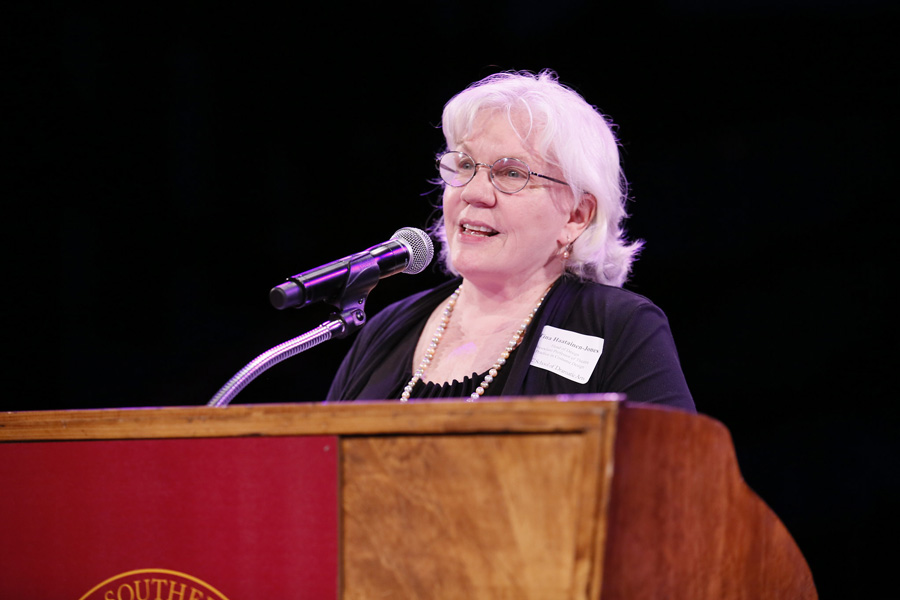 Haatainen-Jones, who is moving with her husband to Champaign, Ill., said it will be hard to leave. "I'll miss the students for sure," she said. "I get to know them so well by meeting with them individually once a week through a semester. I go through the steps of getting a design ready, I sit in some fittings with them, I go to the dress rehearsals and make my notes and work with them.
"I'll also miss the camaraderie. We have a great faculty. In the design department, we don't all think the same, and yet we're very respectful of each other's opinions. It's exciting to work together."
Haatainen-Jones may be retiring from teaching, but she has no plans to retire from creative work.
Trained as a painter and sculptor, she's gained a worldwide reputation for her ability to sculpt and engineer nontraditional costumes and puppets. After designing for Disneyland for a decade earlier in her career – everything from the "Animazement" at the Fantasyland Theatre to Macy's Thanksgiving Parade costumes – she went on to apply her magic to live versions of famous characters in the Paw Patrol, SpongeBob, Teenage Mutant Ninja Turtles, Shimmer & Shine and Dora the Explorer franchises. She's had a contract with Nickelodeon for the past 10 years, and will continue to design and oversee construction of its new character costumes and touring shows.
"I enjoy working on stuff with children," she said. "The first time I was hired at Disney, they put me in the Main Street Electrical Parade – inside Pete's Dragon. They told me to do the whole parade watching the kids' faces on the curb. So I watched all the reactions. And they said 'that's your audience. That's who you want to connect to.' And it was a great thing to do – I liked watching children respond."
She is keen to stay up on the latest technology, which she sees firsthand working with cutting-edge production houses such as the Henson Creature Shop in New York City and Animax in Nashville. Depending on the project, they'll sculpt costumes in clay or Styrofoam to perfect the shapes, then either 3D print or make molds and cast in plastic or carbon fiber. A costume might have a steel structure inside, with the outside covered in fabric or fur and painted.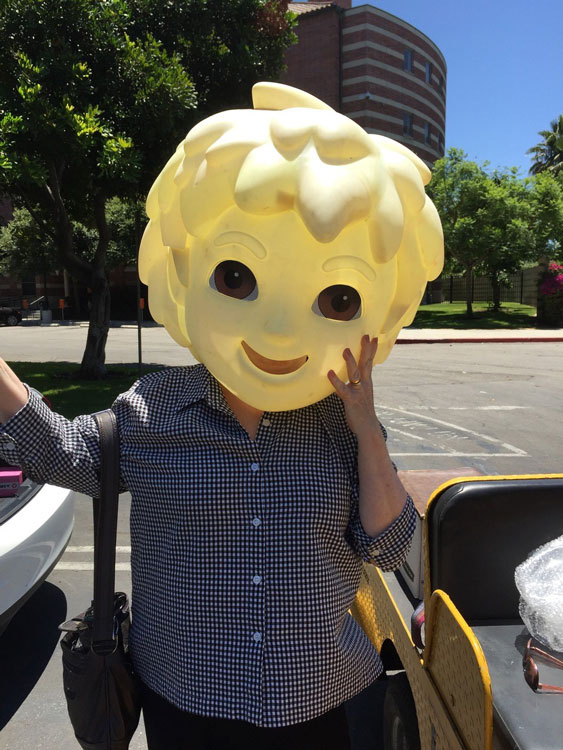 "They're very complex. It's engineering," she explained. "It's engineering a costume that's ergonomically possible for an actor to be inside and dance and breathe and everything else. I love making sure the balance is right and keeping them safe."
But that's just a slice of her resume. Theatre-goers in Southern California, New York and elsewhere know her for award-winning costume designs for Equity theatres, deftly dressing characters in productions ranging from a Sam Shepard drama to a Shakespeare's The Tempest. (That job, in Denver, in a roundabout way led to illustrating actors and costumes on the TV series Star Trek: Voyager.)
Once hired at a theatre, she was often rehired season after season. She's done 18 shows at the Geffen Playhouse, 12 at The Old Globe, seven at the Denver Center Theatre Company and so on.
For theatre productions, the work can involve designing costumes, pulling costumes from inventory, buying bolts of fabrics or perusing rack after rack in clothing stores. "Almost every day is non-glamorous," said Haatainen-Jones. "It's a lot of schlepping. We're always carrying things.
"If you're shopping a show, you have to keep the budget in mind but you also have to shop as each character, in an odd way. You have to understand a character enough to know what they'd wear. … And you have to understand fabric – how it lives, how it moves, whether there's a longevity to it if it has to be washed every day for a long time."
Although she mostly relies on the expert tailors in the costume shops to construct costumes, Haatainen-Jones has been known to sew – usually on the fly. She remembers doing a children's show at the Lewis Family Playhouse in Rancho Cucamonga when the director decided at the last minute that she wanted two characters to wear puffy pumpkin breeches. Haatainen-Jones ran to Target, bought four plus-sized pencil skirts, took them to the theatre, dyed them, cut each skirt down the side and sewed two skirts into one pair of pants. She added elastic to the hems to get the puffy look and had pumpkin breeches in a matter of hours. "Sometimes you get to be real creative," she laughed.
Haatainen-Jones said there exists the possibility she could mentor some SDA students virtually for a show as an outside artist. Working virtually this year has shown her it can be done.
That would make her exit a little easier for colleagues such as Collins. "She is truly an extraordinary artist, a natural mathematician, a poet, a skilled fine artist and a dear friend. I will miss her terribly," said Collins.