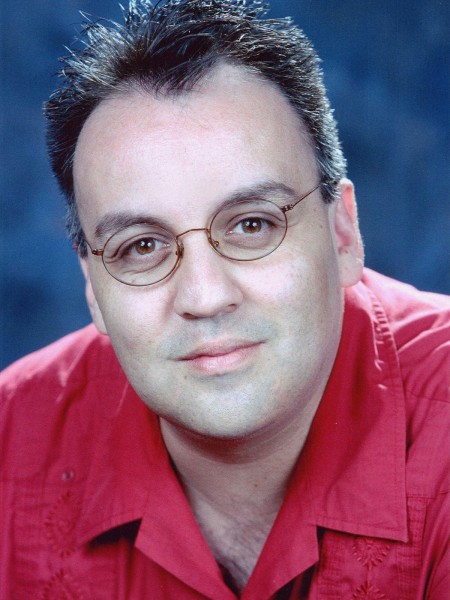 USC School of Dramatic Arts Assistant Professor Luis Alfaro has been appointed resident playwright of the Oregon Shakespeare Festival. Alfaro will serve in that capacity for the next three years courtesy of a Mellon Foundation grant and marks the first time in the Festival's storied 78-year history that a resident playwright has been named.
As resident playwright, Alfaro will be responsible for creating a three-play cycle about California religion and politics, as well as join the company as a dramaturg and organizer. He is currently dramaturging this season's The Tenth Muse, which opens in the summer, and is helping to organize the company's first Latino play initiative, which will include a festival this summer as well. He will sit in on season planning, casting and marketing meetings as well.
Alfaro said, "The joy of working for the largest repertory company in the U.S. as a resident playwright is inspiring enough, but the access that Artistic Director Bill Rauch and his staff are giving me in helping to diversify and strengthen the core of new play development at this much loved institution is beyond belief. Most playwrights create the work, which is gift enough, but I am being allowed to help create the audience and experience as well. This is a once in a lifetime opportunity."
The School of Dramatic Arts has had great success in placing some of their recent graduates, including Nathan Singh (B.A., 2010), Ashley Singh (B.F.A. Stage Management, 2008) and Kacy-Earl David (M.F.A. Acting, 2009), in the Festival's FAIR program, a professional development program that provides participants with an advanced fellowship, assistantship, internship or resident (FAIR) opportunity to learn the best practices across all administration, artistic, design and production disciplines within their Tony Award-winning theatre environment.
Alfaro is a Chicano writer/performer known for his work in poetry, theatre, short stories, performance and journalism. He is also a producer/director who spent ten years at the Mark Taper Forum as Associate Producer, Director of New Play Development and co-director of the Latino Theatre Initiative. He was born and raised in the Pico/Union district of downtown Los Angeles, blocks from the USC campus.
Alfaro is the recipient of a John D. and Catherine T. MacArthur Foundation fellowship, popularly known as a "genius grant," awarded to people who have demonstrated expertise and exceptional creativity in their respective fields. He is currently a Joyce Foundation Fellow for 2012-13, and this month received awards from the The Wallace Alexander Gerbode Foundation and The William & Flora Hewlett Foundation, as well The Rockefeller Foundation MAP Fund.
He is the only artist to have won two awards in the same year from The Kennedy Center's Fund for New American Plays. He is also the recipient of awards from the National Endowment of the Arts, Theatre Communications Group and PEN USA, among others.
He is featured in over 25 anthologies, has an award-winning spoken word CD, and PBS short film, Chicanismo. He is a member of New Dramatists, an associate artist at Playwrights Arena and Cornerstone Theatre Company in Los Angeles.
His plays and performances have been seen throughout the U.S., Canada, England, France and Romania. They include Bruja (Magic Theatre-San Francisco), Oedipus El Rey (Victory Gardens-Chicago, Magic Theatre-San Francisco, Boston Court-Pasadena, Woolly Mammoth-Washington D.C. and is the winner of the Glickman Prize for best play of the 2010 season in San Francisco, as well as Best Adaptation from the L.A. Weekly Theatre Awards), Electricidad (Mark Taper Forum-L.A., Goodman Theatre-Chicago, Borderlands Theatre-Tucson), Breakfast, Lunch & Dinner (Oregon Shakespeare Festival-Ashland, Hartford Stage-Hartford Connecticut) Black Butterfly (Mark Taper Forum-L.A., Kennedy Center- & Smithsonian Museum-Washington, D.C.), Straight as a Line (Primary Stages-Off-Broadway, NYC, Romanian National Theatre, Goodman Theatre-Chicago). His solo performances have been seen at the Institute of Contemporary Art in London, The Getty Center, Boston Center for the Arts, The Goodman Theatre, Hirshorn Museum at the Smithsonian, South Coast Repertory, Oregon Shakespeare Festival and X-Teresa Performance Space in Mexico City, among others.