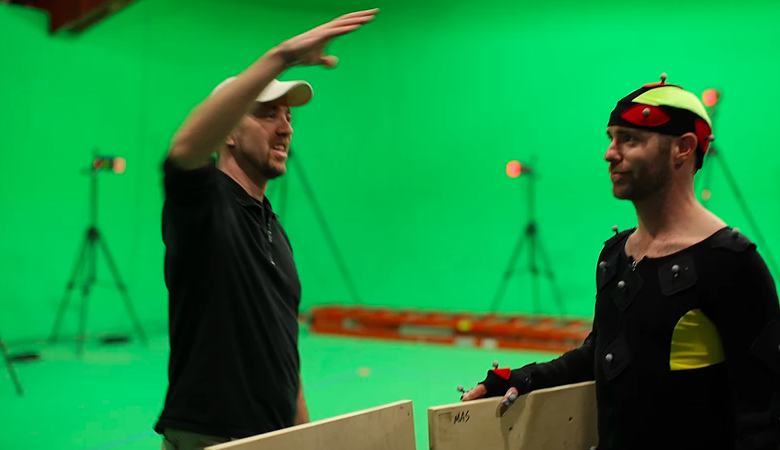 Imagine this: you're an actor on set for your first video game production. You haven't seen your lines in advance, and the mostly barren stage has no scenic backdrop, no furniture or props, no atmospheric lighting or sound. You are wearing no costume, no makeup and there are no other actors to react to. You are handed the script and are immediately expected to deliver a highly dramatic performance—on your very first take.
This scenario is not unrealistic, but it is one that actors must grow comfortable with: video games have become a $140 billion-per-year global business, a figure that's higher than the film, television and music industries combined.
Recognizing this, the USC School of Dramatic Arts has partnered with PCB Productions founders Keith Arem and Valerie Arem to offer a new semester-long class for SDA students, Acting for Video Games. Keith and Valerie, well-known video game directors and experts in video game casting and voiceover work, have 25 years of experience in the ever-expanding field. The two have directed, produced or appeared in hundreds of titles, including blockbusters such as Call of Duty, Monster Hunter, the Persona series, Titanfall and Saints Row.
"Even giant celebrities you think would be amazing actors for video games really are out of their element when it comes to working in the technical space for games," says Keith. "It's very challenging for actors to imagine what the project is going to look like in the end."
A few years ago, their production company started offering six-week performance classes for professional actors. Classes filled up immediately, and currently have a one-year waiting list. The SDA class, which came about after the Arems presented a workshop at USC, is an expanded version of their course for professionals; it is taught for three hours on Saturday mornings at their Encino production studio, and is limited to 12 students.
Each class focuses on a different aspect of video game performance, involving techniques that may be unfamiliar, such as facial capture, motion capture, battle chatter, or ADR.
"It's not an acting class per se, about finding your motivation and that sort of thing," explains Valerie. "We're teaching about the technical side of things."
In the course, the Arems explain the many types of video games – virtual reality, augmented reality, alternate reality, social games, casual games, console games and mobile games. They give students information on how unions, agencies and contracts work in the game industry, and provide audition tips and etiquette advice for the voiceover booth or studio. They have welcomed actors who are legends in the gaming industry, agents, and a casting director to visit the class and share experiences. As part of the midterm and final, students create their own video game reels, so they can submit themselves for jobs right out of school.
"Educating the actors includes not only teaching them how to work with the technology but also understanding how the contracts and the projects work," Keith says. He says he continually advocates with entertainment unions for better wages and conditions for game actors, because they're being asked to do very technical and challenging work that's different from normal acting.
Actors wanting to work in games don't necessarily need to be gamers themselves, the Arems say, but they do need to understand styles of games. "Is it a cinematic game, a top-down game, a fighting game, sci-fi or fantasy?" asks Valerie. Says Keith: "If you're doing a very dramatic performance on a billion-dollar franchise, that's different from a children's educational project where you are narrating counting sheep. And as an actor, you don't necessarily know what you're being booked into until you get that offer."
Game production runs very, very quickly and sometimes the director and actor will see a script at the same moment – the morning it's recorded. "You have to be very good at cold readings," says Valerie.
Film and TV actors tend to rely on their facial expressions, Valerie explains, because a camera can capture those intimate movements. But in voiceover work, "if you're going to brood silently, I can't hear that on a microphone. So it's learning to use your voice to do things that say 'I'm brooding about this.' We teach ways to makes these emotions come across in your performance without relying on physicality."
Game projects also have much more dialogue than other mediums. A half-hour TV show has about 300 to 400 lines of dialogue between all the characters, says Keith. A motion picture might have 1,500 lines of dialogue. An average video game, however, might have as many as 50,000 lines of dialogue. "We're recording 100 lines of dialogue an hour, and we're recording these things over months," says Keith.
Video game actors can be highly specialized. Some may only do voices. Others may only do facial movements. Others may be dancers or stunt artists. Depending on the role, actors might don high-tech gear, such as motion capture suits or voice capture headsets tethered to crew members holding laptops. Giving students experience in a voiceover booth, sound-treated stage or wearing gear gets them comfortable with the technology so when they book a project, they aren't having a panic attack in front of the client, says Valerie. "We don't want the technical side of things to get in the way of the acting side of things."
"We've seen games evolve from beeps and blips to the very cinematic performances you see now," observes Valerie. "There is a lot of new technology and it's constantly changing. We need to bring our actors along with us, so they don't fall behind the technology curve."