As part of Trojan Family Weekend, the School of Dramatic Arts invited working alumni from the past decade to return to campus and share insights on their journeys from college to career at the annual Industry Insider panel. Hosted by Assistant Professor of Theatre Practice in Acting and Director of Professional Development Dan Shaner, this year's panel featured Trojans working in diverse capacities in the arts and entertainment industries.
Manuel Prieto (BFA Design '12) discussed his new position as Executive Director of Boston Court Pasadena and how a series of internships and independent student productions (ISPs) during his time at SDA prepared him for a career in arts administration. Casting director Jordana Sapiurka (BA Theatre '14), director and producer Cary Reynolds (BA Theatre '18) and art director Victoria Tam (BFA Design '13) detailed how they made the transition from studying at the School to their varied careers, using the tools and training they received at USC—along with their own talent and resourcefulness—to make a place for themselves in the competitive world of Los Angeles arts and entertainment. Actors Justin Chien (BFA Acting '18; The Brothers Sun) and Haley Keown (BA Theatre '13; Reservation Dogs, The Marvelous Mrs. Maisel) shared leveraging their Trojan Family connections to land that coveted first role.
"At ten years out from graduating, it's been a journey. It was rough coming out of college," said Keown. "But everyone tells you that you need to keep showing up, keep plugging away, stay in class, make your own content, network. That's what I did. Slowly, over time, that resulted in me getting my first TV credit."
Justin Chien, who just finished shooting his first lead TV role on the forthcoming Netflix production The Brothers Sun, agreed: "For some reason or another, I just couldn't book a TV role. It was getting quite frustrating. But this role came along at the right time, right when I felt like I was at my tipping point. It was truly a tremendous gift."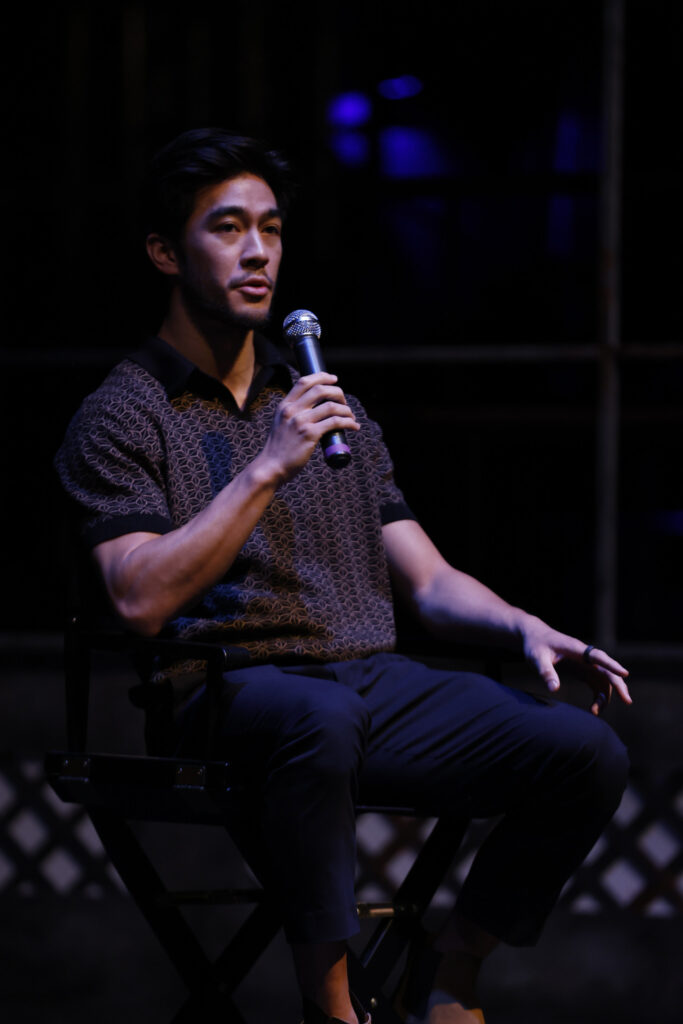 Several of the other panelists, including Sapiurka and Reynolds, noted that although they had studied acting, they found along the way that other avenues of making art and entertainment simply made them happier.
"I realized that the lifestyle of an actor was not what I wanted for myself," said Sapiurka. "I was able to co-direct an ISP here, The Importance of Being Earnest. Through that experience, I was able to hone in on what I loved the most, the casting process. I felt I had really strong instincts when it came to seeing an actor and knowing what they would be right for, and maybe thinking outside the box."
Reynolds, who also works as Executive Administrator for the co-CEOs of Bad Robot Productions, recalled a pivotal moment interning through the LA County Arts Commission's internship program—the same program which also helped launch Manuel Prieto's career into arts administration. She worked with the Independent Shakespeare Co., helping put on their annual Griffith Park Free Shakespeare Festival, and has continued to serve as either Assistant Director or Associate Producer ever since.
"I fell in love with the mission and the people that worked there, so I came back to volunteer," she said. "Those folks ended up giving me my first job out of college. I really got to learn hands-on right away. It's because of those connections I made following something I loved a lot that I ended up with the job I have now."
Manuel Prieto similarly discussed taking advantage of internships and networking opportunities during a student's time at SDA. Prieto felt that being able to see art and make connections organically are some of the most important parts of training to enter the arts and entertainment industry.
"My approach during my four years at USC was to take in as much L.A. theatre as possible," Prieto said. "The ability to network pre- and post-show with the theatre makers and creatives, the decision-makers in the industry, is so important. They always make a seat for you at the table if you're their student."
Victoria Tam, who has recently worked on Hacks (HBO), Beverly Hills Cop: Axel F (Netflix) and the film Poolman, praised SDA's design program and ISPs for giving her the hands-on experience she needed to launch her career coming out of college.
"Typically in other programs undergraduates don't get the opportunity to design," Tam said. "The more experience you get in designing, the better you get."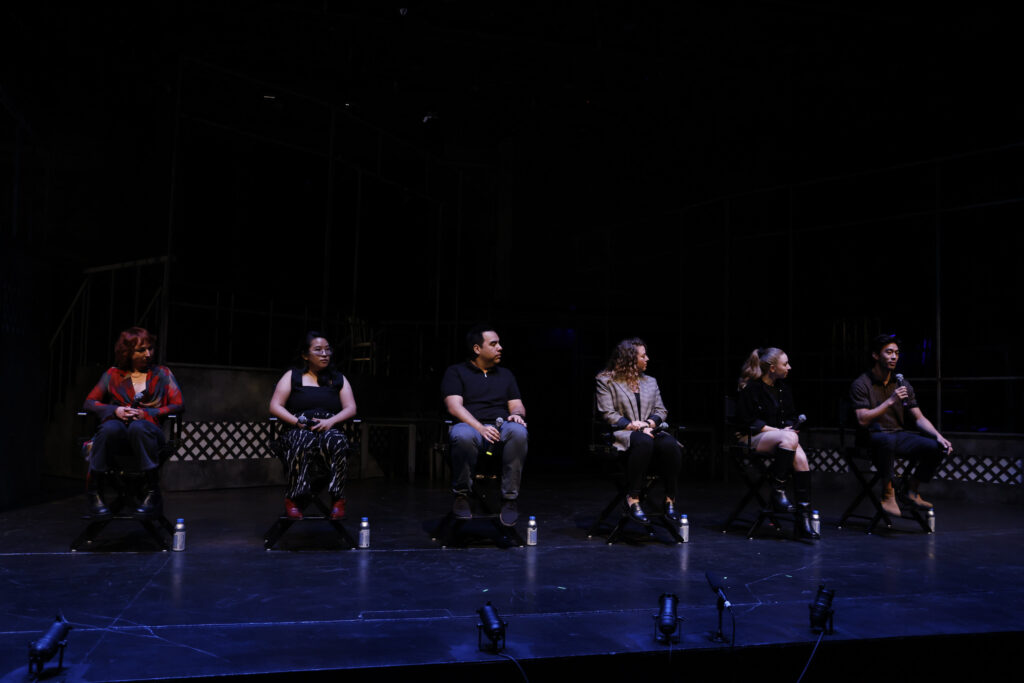 It's working for those people
Keown and Chien, the actors on the panel, addressed concerns from parents and students about the famed competitiveness of their profession. They both emphasized putting in the work, being a kind person and leveraging the resources and networking opportunities provided by the School of Dramatic Arts.
"I did as many stage productions as I could and also as many short films as I could," Chien said, speaking of his time at SDA. "Those things really prepared me for the professional world. A lot of people ask me what it's like working on a large production. To be honest, it feels the same. There are more people, there's a higher budget, you have big name cast members. But the job is the same. I show up before the call time, have my lines memorized, do the scene, I take direction, I go home and I do it again. The standard I try to hold myself to and the standard the teachers here held us to prepared me for that."
Keown agreed, noting that an education at SDA helped instill the professionalism needed in today's world of acting. "This town loves USC. Going to school here and having that on your resume, so many people have graduated from here. The Trojan Family—that is a real thing," Keown said. "It's a small percentage of people who are actually hitting the ground and showing up every day. If you work hard and stick with it, it's working for those people."
The panel was followed by a Q&A session with parents and students in the audience, touching on subjects ranging from the benefits of having a double-major to asking what other jobs the panelists did to support themselves while they pursued their artistic careers. The panelists answered with candor and humor, giving excellent advice to students hoping to follow in their footsteps in the coming years.
Sapiurka pointed out that leading a happy life is the ultimate goal.
"If you're a student right now thinking about graduation and what you'd like to do, pay attention to what makes you happy in the process," she said. "If it's something other than acting, that's okay. There's room for everybody to do what makes them the happiest in this field."