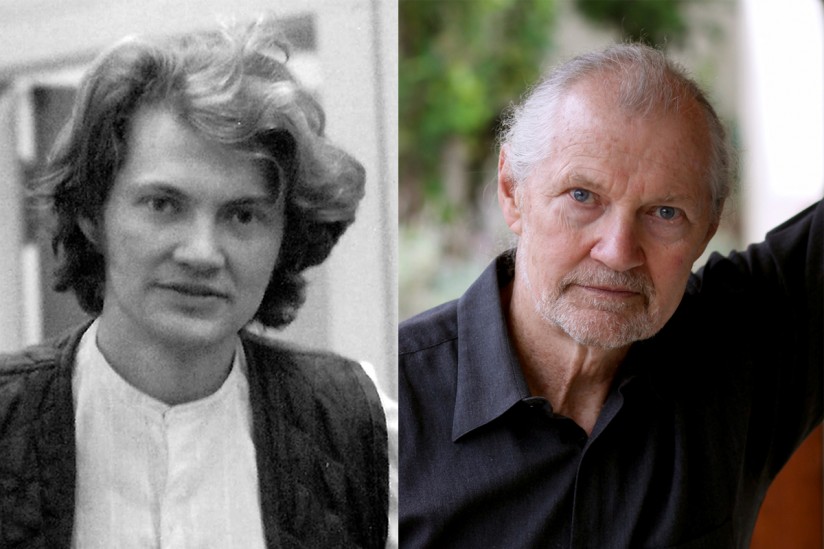 The best actors dig deep, illuminating a character's pain and joy with as much honesty as they can give. So it's not surprising that one of the industry's top actors, Andy Robinson, who created the MFA professional actor training program at the USC School of Dramatic Arts, has written a compelling memoir that lays open the raw truth of his life. In Stepping Into the Light: Sources of an Actor's Craft, just published by Figueroa Press, Robinson details how life experiences are connected to an actor's craft. "Work and our lives are inseparable," Robinson said. "There's an incredibly powerful symbiotic relationship."
Screen tests
Robinson has had a thriving career in theatre, television and film, both as an actor and director, for more than 50 years. As an actor, he is perhaps best known as the killer in the film Dirty Harry and playing the alien Garak for seven years on the television series Star Trek: Deep Space Nine. He started this memoir as a novel 12 years ago, put it aside for several years and decided that using fiction as a device made it seem as if he was on the outside looking in at a life. He made the emotionally risky choice to turn to nonfiction and finished the project.
"How do you transform difficult circumstances and make them a positive, functioning part of your life?"

Andy Robinson
"I found a core," he said. "How do you transform difficult circumstances and make them a positive, functioning part of your life?" In his case, a grim childhood in Connecticut propelled him to create new personas that allowed him to survive. "I wanted something other than the reality of a dead father, an alcoholic mother and this dangerous, dreary place called Hartford," he wrote.
Hello, darkness, my old friend
His home (a succession of rundown rooming houses), his school and the streets all were unpredictable and made little or no sense to him. Then he discovered the movies, "a safe place where I could sit in the darkness and enjoy the crimes committed and the punishment justly administered." He created crude puppets and acted out the scenes he had watched in order to get adults to pay attention to him. "Imagine Punch and Judy doing bad imitations of Alan Ladd and Veronica Lake," he wrote.
At age 9, he escaped from a beating in an alley by two older boys by pretending to be wildly deranged.
"I discovered something that could protect me — a 'demon mask'," he wrote.
At a school for "boys from broken homes," he was lucky enough to fall into a top-notch drama program run by a committed assistant headmaster.
"I discovered there's a real craft where I could learn to actively engage the imagination."

Andy Robinson
"I discovered there's a real craft where I could learn to actively engage the imagination," Robinson said. "It's what I had been fumbling toward all my life."
He acted at the University of New Hampshire and in summer stock and transferred to the New School in Manhattan, where he visited jazz clubs and attended live theatre, seeing towering actors like George C. Scott and noticing false or inept performances of others. "How was it possible that a professional actor not be totally possessed by the truth of his or her character?" he wondered.
A turn for the better
A turning point came when he received a Fulbright scholarship to study at the London Academy of Music and Dramatic Art. There, he learned breath work that helped him find "this unique Andy voice my teachers assured me existed buried beneath layers of fearful defense."
Later would come bodywork in the form of a series of exercises based on Hatha yoga and pioneered by Polish director Jerzy Grotowski. Robinson and others used the Cat as the basis of an influential experimental off-off Broadway theatre group, La Mama, where he performed for years.
These tools — breath work and bodywork — would give Robinson's performances power and truth, become the basis for his career on Broadway and in Hollywood, and inform his college teaching.
In Stepping Into the Light, Robinson said he "tried not to exaggerate or embellish," giving readers a clear sense of what actors need to do to create honest work. The book is candid about his lifelong struggle with his relationship with his late mother, a struggle that impacted his personal relationships and career.
"If she loved me, I could learn to love myself, to open myself to others," he wrote. "If I'm not worthy of love, nothing I do is worthy."
Robinson, who recently stepped down from running the MFA program, still is teaching and directing, and will be helming a production of Brecht's The Threepenny Opera as part of the MFA repertory in the spring. Look for it to be an embodiment of the touchstones he defines in his memoir: being imaginative and truthful.