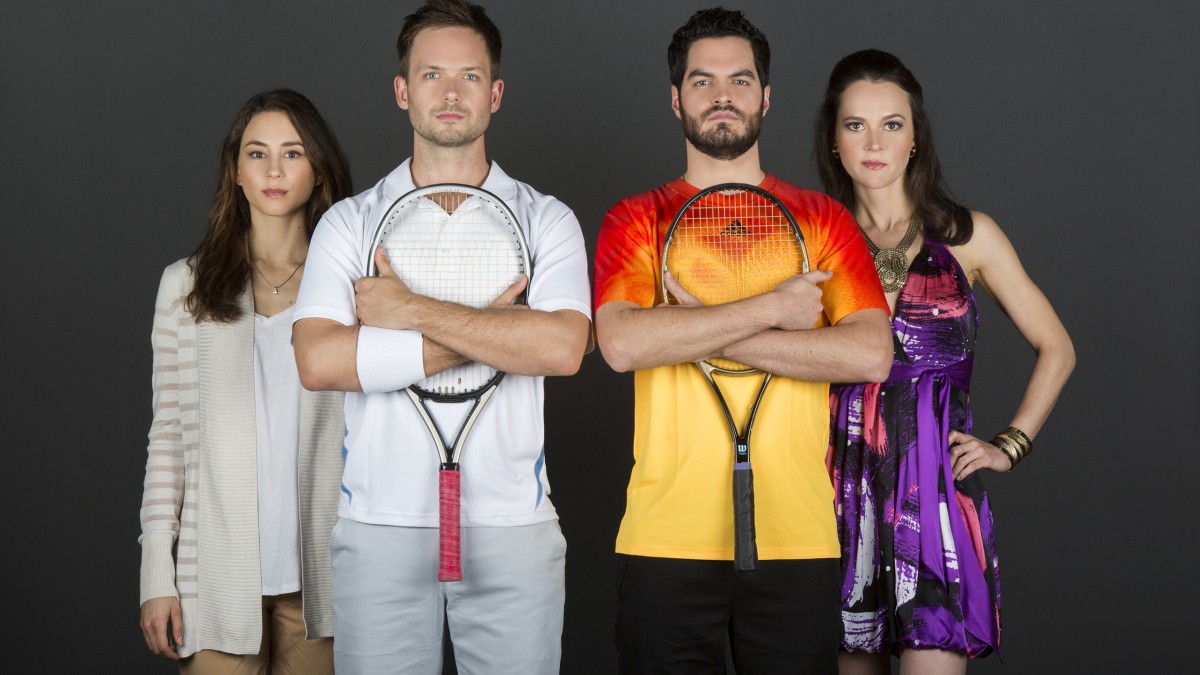 Instead of vacationing during the hiatuses of their respective television series this winter, School of Dramatic Arts alums Patrick J. Adams (BFA '04) and Troian Bellisario (BFA '09) took up tennis.
Of course, the decision to pick up rackets and start volleying was only partially recreational. The two actors, who are reuniting on stage for the first time in seven years, are playing an American tennis champ and his former tennis pro wife in the world premiere of Anna Ziegler's The Last Match at the Old Globe Theatre in San Diego through March 13.
The production is set at a U.S. Open semifinals bout between Tim Porter, an aging American star and Sergei, the Russian and frequent rival who is looking to dethrone Tim at what could end up being the American's final match. Bellisario plays Tim's wife, Mallory, a former tennis player who is now a coach. The action takes place during the match itself and in flashback as audiences watch the development of the relationship between Tim and Mallory and between Sergei and his girlfriend, Galina.
The project is a return-to-roots opportunity for Adams and Bellisario who started dating while working together on a play in 2009 and became engaged last year, but who have spent the bulk of their post-USC years working in television. Adams stars in the series Suits on USA while Bellisario headlines the cast of Pretty Little Liars on ABC Family. Both have guest starred on each others' shows.
"From the very beginning with Patrick, even though we weren't in each other's class [at USC] and didn't work together at school, it's always been really easy for me to work with him," Bellisario said. "That's something that I'm getting to appreciate more and more every time we work together. There's a real sort of trust and a freedom to experiment."
Although there's a sweet synchronicity to a real life couple playing on-stage husband and wife, Adams and Bellisario did not come to The Last Match as a "package deal" as they both had to audition and submit separate tapes. Adams, who had been considering a stage return, met with Ziegler and director Gaye Taylor Upchurch while he and Bellisario were in New York. Bellisario, who had also read the The Last Match, informally joined the meeting and discussions progressed from there.
For Adams, the opportunity to play a Roger Federer-esque athlete at the top of his game was enticing as was the opportunity to break free from the office building confines of the Suits set. Bellisario, who has played a high schooler for most of Pretty Little Liars, has enjoyed the challenge of playing a character who is in her mid-30s and wrestling with transitions and disappointments that the actress has not experienced in real life.
Both actors say they are grateful to have scene partners who, because of their off-stage relationship, enjoy a creative short-hand. Having previously worked together in Bill Cain's play Equivocation at the Geffen Playhouse and in the Adams-directed short film We Are Here, Adams and Bellisario say they know each others' rhythms.
"There's a real freedom when you don't have to manufacture a sense of intimacy or love or connection," Adams said. "It's nice to be able to start with that and figure out all the other stuff. If you already know how to speak to each other and get through to one another, and ask the right questions, you can get to the point a lot faster without worrying about stepping on toes."
The two regularly return to USC to meet with dramatic arts students. Adams is on the School's Board of Councilors and regularly discusses the acting life with students through the SDA-sponsored Stage Door Forum. Bellisario, who frequently joins Adams at Stage Door gatherings, was the School's commencement speaker in 2013.