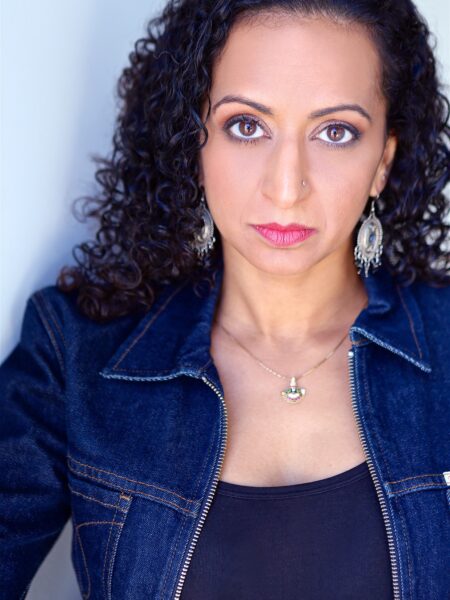 In our Alumni Q&A series, we caught up with Shivani Thakkar, BA Theatre '05, to discuss dance, defining success, and tuning out the noise.
---
Tell us a little bit about your professional background.
I am a multi-hyphenate artist and educator. As an artist, I am an actor, choreographer, and dancer. As an entrepreneur, I am the artistic director of a commercial dance company. As an educator, I am on faculty at AMDA LA and Occidental College, am a teaching artist with Theatricum Botanicum, have developed in-school curriculum for K-12, and offer private dance/movement coaching for actors, performers, and the general public. In addition to the creative aspect of dance, I serve on the Board of Directors at A Noise Within Theatre and have over the years served as a peer assessor for grants through the California Arts Council, the Los Angeles Arts Commission, and the Canada Council for the Arts
I am fortunate that my creative journey has led to many memorable and rich interactions. Some of my favorite growth experiences were my early post-college experiences as a production intern at ABC television studios and as an actor intern at the Will Geer Theatricum Botanicum, as well as professional work with Blue Sphere Alliance. Being Canadian, I obtained my O-1 visa on my dance merits, and have been blessed with opportunities to travel to Japan, India, New Zealand, Greece, Canada, and across the U.S. on various assignments including performance, choreography, and teaching. I've also been so thrilled to continue my training in LA with the Steppenwolf Classes West summer intensive, Howard Fine Acting Studios, Margie Haber, and most recently with the Groundlings program!
What are you currently working on professionally?
At present I am working on a few different projects across various mediums. I am in the development stages of a new stage work entitled Her Story, am collaborating as a choreographer and director on a series of short dance films, and focusing on my own professional development within the fields of improv and voiceover. I have been getting some really wonderful audition opportunities for acting work and am also in the process of focusing on my work as an actor, with the same zest with which I developed my dance career for the past decade and a half.
What was your best USC experience?
The football games, being a Resident Advisor, and the opportunities to work with and collaborate with my peers. During my time at USC, there was a student theatre company called L'Chaim Theatre Ensemble that was in partnership with Blue Sphere Alliance, a professional theatre company in Hollywood founded by Anthony Barnao. I was lucky to have joined this company my freshman year and was cast in my first production—Cinders—that fall, which we performed for a full run at the Lex Theatre! I remember this whole experience vividly and it was terribly exciting and wonderful.
What do you miss about college, SDA specifically?
I miss being in rehearsals every evening!
Was there a class or professor that was particularly meaningful or influential during your time at the School? Why?
There are two professors that have deeply influenced my journey – Marilyn McIntyre and Brian Nelson.
Marilyn McIntyre was my first experience of SDA and of USC with a Monday morning 8am THTR 101 acting class my freshman year. Marilyn is an incredible actor and acting teacher and has remained my mentor throughout the years and become a friend! I have had many lovely conversations with her about theatre, art, and life over the years. I've also had the opportunity to continue my training with her at the Howard Fine Studios.
During my junior year, I had the incredible gift of being in Brian Nelson's directing class and discovering my love and aptitude for directing. Through this class, I was able to tap into more directing opportunities, including being Assistant Director on Noel Coward's Present Laughter, directing an original MFA work for the Playwrights' One Act Festival, and putting up scenes for Samuel Beckett's Endgame. Post-college I had the opportunity to work as Assistant Director on Anne Christie directed by Kim Rubenstein and starring Jeff Perry, Zoe Perry, and Kevin McKidd at the Odyssey Theatre. Prior to USC I had only thought of my work in theatre in the capacity of acting, and Brian Nelson's class and mentorship opened up a whole new world to me. I'm so glad that it did, because so much of my first career in dance as a choreographer and artistic director of a dance company have also required the same leadership skill set, deep thinking, and visual sensibilities as that of a director. Further, my work as a choreographer for movement direction in theatre and on film have always resonated deeply with the creative team due to my sound understanding of text acting, interpretation, and staging – all things I learned in Brian's class.
What (if any) productions did you work on?
My freshman year, I acted in Cinders with L'Chaim Theatre Ensemble. Sophomore year, I had the chance to be part of an incredible show, Blood Wedding (Bodas de Sangre), directed by the lovely Stephanie Shroyer in the Bing Theatre. This was a fun one. We had flamenco dance specialists come in and work with for the production, and if I recall correctly we were on a raked stage. My sophomore, junior and senior years, I was in Lady Windermere's Fan, served as the assistant director for Present Laughter, directed Home Again, and acted in a David Ives play at the University Village with L'Chaim Theatre Ensemble. I was also part of the showcase performance for Jason Alexander's acting class. Post-graduation, I've been back and hired by SDA as a choreographer on A Dream Play and Naga Mandala.
What was your favorite theatre at SDA? Why?
The McClintock Theatre was my favorite theatre. I still recall some the shows I saw there – it was and is a magical space that is so versatile. I am also fond of it, as it was a theatre of many artistic firsts for me. It was in McClintock Theatre that I had a chance to share a monologue for Jean Anouilh's Antigone under the guidance of Jason Alexander and with the revered Ed Asner in the audience, who gave me kind words of support and encouragement post-performance. McClintock is where I directed Home Again and served as an AD on Present Laughter, and when I returned many years later to choreograph Naga Mandala at SDA – that show was also in this very theatre. It has a special place in my heart.
What can students do during their training to prepare themselves for the professional world?
Keep an open mind, learn as much as you can from all experiences and people, stay humble and hungry, and experiment with your own creativity – don't be afraid to create, push yourself, and venture out of your comfort zone.
What lessons from your SDA training have you applied to your professional life?
I think the biggest lesson I learned from SDA is not letting outside noise dictate to me how or what my artistic journey should be. Each person's journey is unique and full of richness as long as one stays present. No experience is wasted if you are present and continually challenging yourself creatively. The wonderful thing about being a theatre artist is that life itself and its experiences are lessons in the human condition, which is exactly what our craft seeks to reflect, represent, and shed light on: humanity. My time at SDA taught me that in order to be happy and successful in my professional life, I need to engage in areas that light me up – that I need to work authentically, collaboratively, and with a curious confidence, that I need to find my passion. I need to define for myself what career success means and pursue that with a zeal that is infectious and resounding.
Follow Shivani on Instagram at @shivdance.