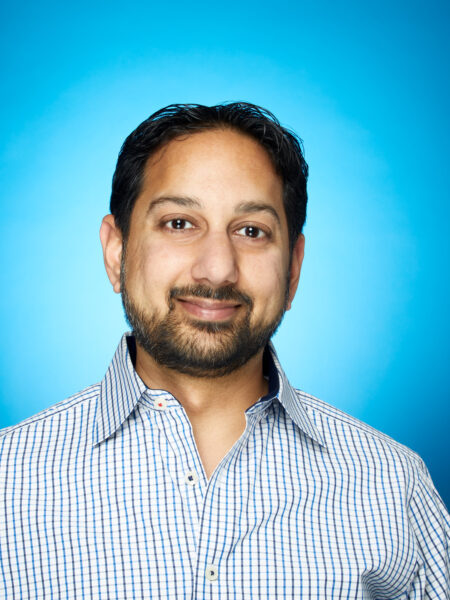 In our Alumni Q&A series, we caught up with entertainment production manager Pranav Shah BFA '05 to discuss a magical USC summer in Prague, the importance of keeping in touch with your Trojan Family, and receiving the Asian Pacific Alumni Association Service Award.
---
Tell us a little bit about your professional background.
Post-graduation, I worked in academic theatre for a brief period before taking a position at City Theatrical, a manufacturer of entertainment lighting accessories where I primarily did procurement and production planning. I learned a ton about how stuff is made and worked with the R&D team on new products, being involved in the full process from idea to prototyping to production and sales launch. After several years there, I wanted to get my hands dirty again doing live production, and fell into the corporate live event world, doing a lot of experiential marketing events for both B2B and B2C audiences such as product launches, up fronts, media days, concerts, and long-term installs. My role on any project varies, but I usually act as a technical producer or technical director, and have been doing that since 2010. Now I own my own company, Off The Grid Management, doing that same type of work, and am a partner in a small video production rental company, D34 Rentals, with another SDA alum, David Fickas (BFA '96).
What are you currently working on professionally?
Most of my projects are quick timeframes (usually a few weeks to a couple months at most), so this won't be accurate for long. I just finished up a couple conferences and an EDM concert. I'm currently working on a couple media events, a remote simulcast, and another couple conferences over the next few months.
What was your best USC experience?
The summer between my sophomore and junior year, I got the opportunity to go to Prague for a month with a cohort of students for the Prague Quadrennial, which was sponsored by USITT, and Dean Bob Scales took on the responsibility to build U.S.A.'s exhibit at USC. I can remember many of us spending large amounts of our free time at an old LADWP building just north of campus that had become a USC storage facility, fabricating this steel frame art exhibition that had to travel to Prague in a container. We'd put it together for a three-week show, and then have it travel back to the US for a trade show here. About ten current and recently graduated students went on this journey with Bob to Prague, and it was one we'll never forget!
What do you miss about college, SDA specifically?
About SDA specifically, I miss the camaraderie of being at a place where everyone is there to learn, to participate and to help each other grow. That sentiment certainly expands to USC as a whole and all the friendships I made during that time.
Was there a class or professor that was particularly meaningful or influential during your time at the School? Why?
I mentioned Dean Scales as the one who took us to Prague, and he became a mentor of mine over time. We continued to stay in touch after he retired and I graduated. He and Jack Rowe were two people at the top of the School who everyone could feel truly cared about the students and about making their academic experiences the best they could be. I'm grateful I could be a student at the School when both of them were around. Technical Director Professor Duncan Mahoney taught me how to work in a shop and think through the physical aspects and logistics of making stuff. I still use so much of that practical experience and knowledge to this day in the work I do.
What (if any) productions did you work on?
Some of my more memorable ones were at the Bing. My freshman 130 crew assignment was How to Succeed in Business Without Really Trying and I just remember it being a blast—the show, the cast and crew. My senior year TD practicum assignment was Anything Goes, and it was really cool to learn how to build a double-decker set that opened up and to see it come to life. I was also the student house TD at the Massman for a couple years, so being able to work with fellow students on ISPs, BNT, and all the things that went through there was always a good time.
You received the AAPA Service Award this month for your achievements. Previous recipients include the founder of Vizio, a California Supreme Court Justice, and the inventor of mochi ice cream. What does it mean to you to join their ranks?
I'm incredibly honored to receive the Asian Pacific Alumni Association Service Award. Post-graduation, I've been involved in several USC regional clubs and affinity groups over the years, and it's humbling to be honored in this way for the volunteer work staying connected to fellow USC alumni, as well as supporting current students through scholarships and mentorships.
You're a member of the SDA Alumni Leadership Council. Why has this work been important to you?
Keeping apprised of what's going on in the School and with the University has been meaningful as a way to keep in touch with current students, faculty and the administration. Being able to understand changes and actions in real time by sitting on the DEI committee, and hearing from those in the trenches experiencing real evolution in how things are working and the way the community is responding has been impressive. And it's always exciting to be one of the first to know about updates to the new building, what students are doing, and celebrating the wins of the School and University. 
What lessons from your SDA training have you applied to your professional life?
Several of our design and production faculty taught us a lot about life and the soft skills of "making it." When I mentioned camaraderie before, it really translates to almost anything in the entertainment industry. Any project, show, installation, broadcast, performance or whatever your sector does or calls it, it is a team effort from beginning to end. The collaboration with your colleagues and trust in each other is critical to success and allows others to do their job while you do yours.
What can students do during their training to prepare themselves for the professional world?
Learn hard skills that can get you hired to jump right into work right after graduating. Things like drafting, programming, equipment certifications, product expertise, and software used in the industry – items you can list on a resume can make you stand out to those looking for real assistance on production rather than an entry-level production assistant. Read trade publications for the sector you're interested in and learn the names of the companies and people doing cool and innovative stuff. Try to go see some of those projects or products. Know what your fellow students are doing and stay connected after graduation. The Trojan Family is real and the entertainment industry is small. You'll never know when you may cross paths again or be able to give each other work or advice when the time comes.