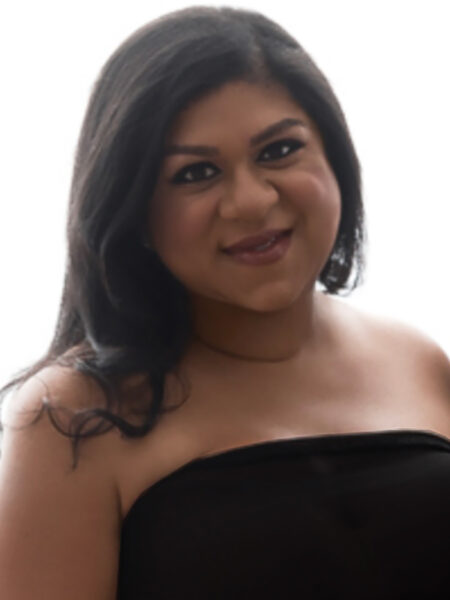 In our Alumni Q&A series, we caught up with Mona Chatterjee Raffle BA '03 in which she shares about being an SDA supporter, how students can prepare themselves for the professional world and more.
About the alum
Mona Chatterjee Raffle is a proud Trojan with a BA in Theatre from the School of Dramatic Arts as well as a BS in Business Administration, Marketing from the Marshall School of Business. Her early career was in the music industry, writing and recording pop and dance music with her signature Indian classical music vocals. While building success in her music career, Raffle also built expertise in social media marketing. She also holds an MBA from Pepperdine University and has had over a decade of experience in digital marketing and e-commerce. She is currently a Director of E-Commerce for L'Oréal, working on NYX Professional Makeup.
Tell us a little bit about your professional background.
My professional journey as an artist took me into the music industry. As a dance music artist, I wrote songs that blended my Indian classical vocals with pop/dance music and beats. My first single spent 15 weeks in the top 5 of a viewer's choice show on MTV Logo and I had the opportunity to do a summer tour across the U.K., including a BBC Radio 1 sponsored show in London. My second single reached the No. 4 breakout spot on Billboard's Dance Music Chart. During my time in music, the industry went through major disruptions and I found myself changing directions. I earned an MBA and have spent the past 10 years in digital marketing and e-commerce in the beauty industry.
What are you currently working on professionally?
Currently, I am a Director of E-commerce for L'Oreal, working on NYX Professional Makeup.
What was your best USC experience?
Throwing the best party there ever was, a.k.a. Bootylicious 2001!!! In all seriousness, experiences with the lifelong friendships I made during USC have shaped who I am and are what I treasure most.
What are some of the main reasons why you choose to support SDA with your volunteerism and charitable giving?
I believe the experiences and relationships I built at USC were critical to my success in music and in business, and I am passionate about paying it forward for future generations.
Do you have a particular passion program within SDA?
I am passionate about diversity and inclusion. Having had experiences of my own as an Indian American theatre student, I am encouraged by the conversations happening today, but I believe we still have a long way to go to create space and inclusion for all minorities in theatre.
Was there a class or professor that was particularly meaningful or influential during your time at the School?
Paul Backer's acting class was pivotal for me as I think it was the first time I really started to feel confident in myself as an actor and as an artist.
What (if any) productions did you work on?
I had the privilege to work on many productions, including The American Clock, Love of the Nightingale, Thin Air and Blood Wedding, as well as some incredible student productions.
What was your favorite theatre at SDA? Why?
I spent the most time at the Bing Theatre. It will always hold a special place in my heart!
What can students do during their training to prepare themselves for the professional world?
In today's world of fast-moving technology, there are multiple ways to showcase your work and talent, so keep an open mind to all forms of media and entertainment. Additional advice: follow your passions early on your career and make sure you know how to properly write a resume — whether for acting, production or business — because you never know what will come up!
What lessons from your SDA training have you applied to your professional life?
Not only do I give presentations constantly where my ability to communicate clearly is key, but I also believe my SDA training taught me creative problem-solving, decision-making skills, and fueled my entrepreneurial spirit. I also believe understanding someone else's motivations is a key advantage in negotiations and mediating tense situations. I love being the creative voice that succeeds in the business world.