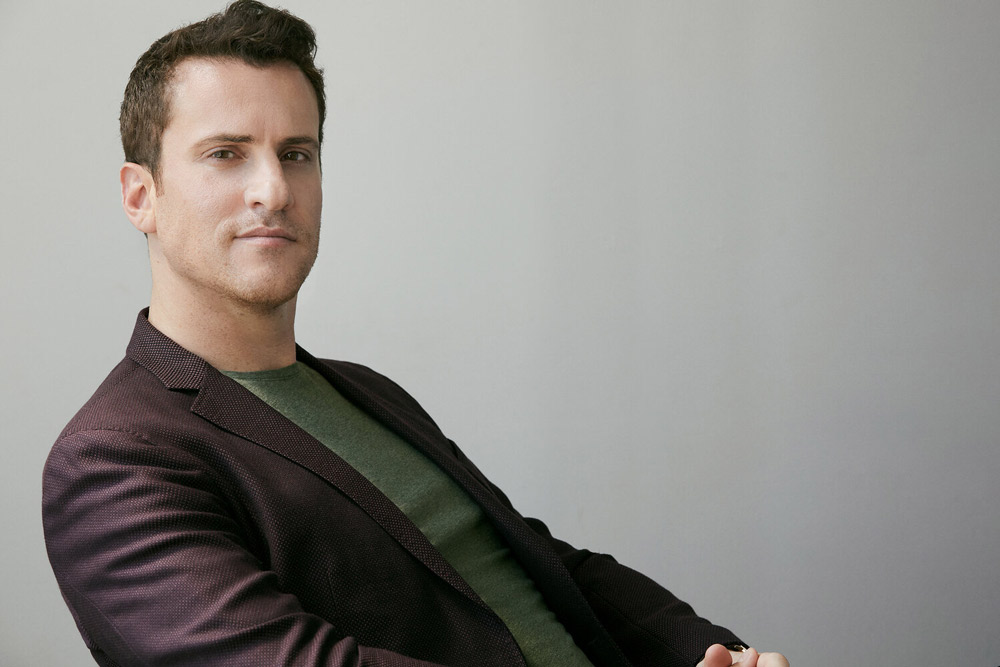 In our Alumni Q&A series, we caught up with Michael Schwartz BA '06 to get to know about his best USC experience, co-creating the Tommy Awards, working in multiple mediums and more.
About the Alum
Michael Schwartz is a director, writer, and producer, and the founder and creative director of Boat Ashore Productions.
As an award-winning theatremaker, he has worked on Broadway, off-Broadway, and at Lincoln Center, and directed productions at some of the world's most notable theatres, including The Old Vic in London, Yale University in New Haven, and the American Conservatory Theatre in San Francisco. Additional credits include work with IAMA Theatre Company, The Magic Theatre, Boston Court, Antaeus Theatre Company, New World Stages, Skirball Center, The Flea, The Lark, NAMT, Fringe NYC, Sam French Festival, Midtown International Theatre Festival, Planet Connections Theatre Festivity, and New York Theatre Barn, a non-profit incubator for new musicals, where he was Associate Artistic Director. AD credits include Sunday In The Park With George on Broadway, Company at The New York Philharmonic, Restoring Love at the Dallas Cowboys Stadium, and The Homecoming at American Conservatory Theatre.
As a filmmaker, Schwartz has directed and produced narrative, documentary and music videos, including the award-winning film Montana, based on his two-time Sundance finalist screenplay and streaming now on Amazon Prime, plus music videos for Billboard charting pop duo Karmina and Grammy Award Amplifier finalist Malynda Hale. TV projects in development as a creator include Montana (Finalist, Sundance New Voice Lab 2018 and Sundance Episodic Story Lab 2016), Pac Heights (Finalist, SeriesFest 2016), Eighth Deadly Sin, and Spice It Up! He recently finished writing his debut novel, Project Wild.
He has directed large-scale productions and events in non-traditional venues including The American Museum of Natural History, Carnegie Hall, The Plaza Hotel, Art Basel Miami, The Rainbow Room, and the 4,000 seat Cushing Memorial Amphitheatre atop Mt. Tamalpais in California. Recent acting credits include films The Wizard Of Lies (HBO) and People You May Know (The Orchard).
Additionally, Schwartz has an extensive background in the education and social impact spaces. In 2013, he helped launch All Star Code, a leading tech inclusion and education non-profit that bridges opportunity gaps for young men of color nationwide. And in 2008, he co-created The Tommy Awards, an evening of celebration, philanthropy and performance that continues to be held annually off-Broadway in honor of the cultural contributions made by USC alumni in New York.
He is a California Arts Scholar, a member of SDC, Lincoln Center Director's Lab, and Old Vic New Voices, an alumni of the USC Schools of Dramatic Arts and Cinematic Arts in Los Angeles and The British American Drama Academy in London, a lifelong vegetarian, and a cultural carnivore.
WhoIsMichaelSchwartz.com // @BoatAshore @BoatAshoreProductions
---
Tell us a little bit about your professional background.
Schwartz: I'm a multi-disciplinary writer, director and producer. I find energy and inspiration in switching up roles and mediums, always letting the story dictate the form. A year after graduating USC, I moved to New York. Over the last 14 years, I've worked on Broadway, developed TV shows, helped build tech companies, and directed films, experiences, and theatre productions around the world. I like working on my toes – keeps things interesting. It's all storytelling to me.
What are you currently working on professionally?
The majority of my live theatre and experiential projects were put on hold a year ago, freeing up time to finish writing a novel based on a film and TV pilot of mine, so I'm currently pitching that. (When the city shut down last March, I was a week away from directing the first reading of Dolly Parton's new Broadway musical. Hopefully that'll still happen when it's safe to do so.) Unsurprisingly, a lot of my projects at the moment mix storytelling with technology – I'm doing creative consulting and experiential direction for a few digital products, hosting digital dance parties, classic cinema clubs, and a weekly room on Clubhouse called Creative Life Design, and with my production company, Boat Ashore Productions, I'm in pre-pro this week on two film series, one of which involves dance, the other NFT's. (Very different!)
What was your best USC experience?
There are too many to choose from! The first two that spring to mind are performing in Blood Wedding and directing The Shape of Things. Blood Wedding was the first show I did at USC, first semester freshman year, directed by the incomparable Stephanie Shroyer. It was a movement-heavy, ensemble-based show, and it really introduced me to a more poetic, imaginative, and surrealist kind of theatre. (Luckily, I was able to perform with many of these cast members in another movement-heavy, ensemble-based show, Marat/Sade, right after college.)
Book ending Blood Wedding my freshman year, I directed and produced The Shape of Things my senior year, using an ISP grant from the student board. (When I was in school, there was one official grant and production per semester. Thankfully, I think there are a lot more ISPs now.) This was my first time directing a full-length play, which helped pivot my career more towards directing. I played and learned and failed so much! It was great! It was also my first time exploring ways to synthesize mediums, which I continue to love doing to this day. We engaged students from the film school to help make our on-stage video content, and we turned the DRC lobby into an art gallery featuring the works of various students from the art school.
Why did you choose to become involved as an alumni volunteer at SDA? How long have you been volunteering at SDA and what has been the most rewarding experience thus far as a volunteer?
When I left L.A., I didn't have a big community of Trojans here in New York. So I started hosting events and parties to bring Trojans together. From there, I had an idea to build an annual event with Trojan talent, which led me to the Alumni Club of New York and the creation of the Tommy Awards. That was 2008, and the annual Tommy Awards continued for more than a decade after that. So cool and unexpected.
Recently, I had a really great experience hiring one of my mentees to assist me with a four-day digital festival I had created. To be able to ask him, after our first meeting, "Hey, can I actually hire you for something?" That was the best. One of my other mentees participated as a game show contestant in the festival, making the whole experience even more rewarding.
Do you have a particular passion program within SDA?
I'm a champion of any program that helps an artist develop their voice. I think both the student productions and student-led companies provide great opportunities for young people to explore their passions and refine their craft. There was a class called "Musical Experimentals," led by Kelly Ward and Parmer Fuller, that launched my sophomore year. In that inaugural class, we collectively developed, wrote, directed and performed in a show about Rodgers & Hart, using their music to tell their story. It really taught me the joys of research and interpreting material, and undoubtedly prepared me for developing and directing new musicals once I moved to New York.
Was there a class or professor that was particularly meaningful or influential during your time at the School?
Both Kelly Ward and Zane had a great impact on me. There are words and practices they shared with me that I continue to share with others, and repeatedly tell myself, to this day.
What (if any) productions did you work on?
My freshman year, I acted in Blood Wedding, The Winter's Tale and Oklahoma!, all in the Bing.
My sophomore year, I acted in Ah! Wilderness in the Bing, Rodgers & Hart in the Massman, and Les Liaisons Dangereuses and Lady Windermere's Fan, both in the Scene Dock.
My junior year, I acted in Once In a Lifetime and danced with the USC Repertory Dance Company, both in the Bing, and spent my second semester abroad at BADA.
My senior year, I directed and produced The Shape of Things in the Massman, danced with the USC Repertory Dance Company in the Bing and acted in Company, also in the Bing. I also recruited theatre students for my thesis film with the School of Cinematic Arts, where I earned my minor.
What was your favorite theatre at SDA? Why?
I'm pretty sure I spent more time in the Bing Theatre than my own apartment. I tend to work on large-scale projects, and the Bing was a great introduction to the practice of melding intimacy with showmanship.
What can students do during their training to prepare themselves for the professional world?
Try everything. Now's the time. If you come to USC as an actor, try writing, directing, producing, designing, and stage managing. Even if you ultimately stick to acting, all these roles will inform your craft and better your education.
What lessons from your SDA training have you applied to your professional life?
Where to begin? I think not enough emphasis is placed on the "transferable skills" of theatremakers. In these times, when most theatremakers are out of work, I think that's important to highlight. Training in the dramatic arts may very well lead you down a path of working in theatre or film. But even many successful theatremakers I know have side jobs or parallel careers. When I do client work like directing events for The Tony Awards or Art Basel, it's all theatremaking to me. SDA trains students in collaboration, communication, creative problem solving, leadership, big picture thinking, flexibility, adaptability, the list goes on. Ask any CEO, economist or social scientist. No matter one's path, these are baseline skills every worker needs to thrive in the 21st Century.