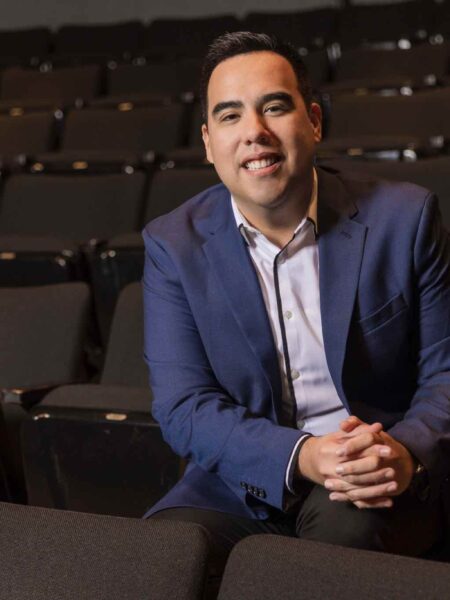 For our Alumni Q&A series, we caught up with Manuel Prieto BFA '12, Boston Court Pasadena's new Executive Director to discuss arts administration, what excites him about his new role at BCP and why aspiring artists should see 52 productions a year.
---
Tell us a little bit about your professional background.
My first professional jobs were with the two organizations I interned with while I was a student at USC — Center Theatre Group (CTG) and the Los Angeles Music and Art School (LAMusArt). Thanks to the Los Angeles County Department of Arts and Culture Internship Program, I was able to get a glimpse into arts administration and leadership. Since then, I have been an administrator first and an artist second.

At CTG, my role was as a Teaching Artist working with their accessibility programs and Community Programming, and had the opportunity to teach theatrical design to students and community members of all ages. I then spent 11 years of my career at LAMusArt, first as an intern, then program manager, then Deputy Director, and finally, I served as Executive Director for over seven years. In that role, I fundraised and provided leadership for the organization's mission to provide arts education programs so the students of East L.A. and beyond could find have creative paths to achieve creative futures. While there, I doubled the organization's budget. Following my time there, I joined the staff of the Wallis Annenberg Center for the Performing Arts in Beverly Hills and served in leadership as the Director of Education. And throughout my time as an administrator, I have been able to keep designing special projects here and there, collaborating with excellent artists and friends.
Tell us about your new role at Boston Court. What makes you excited about the opportunity?
I am humbled and inspired to serve as Boston Court Pasadena's new Executive Director because I have been a longtime admirer of BCP. I am tremendously excited for the opportunity to lead an organization that holds a torch for artistic audacity, and I'm delighted to work in tandem with Jessica Kubzansky, who has been committed to the organization since its inception. What excites me most is bringing the community of Pasadena and beyond bold and necessary work. As the organization celebrates its 20th anniversary, I'm excited to both honor BCP's history and continue to innovate and amplify the organization's community engagement and learning reach, all around our excellent artistic programming.
What was your best USC experience?
What made my experience at USC excellent were the professors (many of whom I still collaborate with today), the Trojan Family (which has been an excellent cohort to reach out to as I continue to build organizational support in my career), and the fact that there were so many productions to be involved in (both within the School and also through independent student productions). Producing, budgeting, fundraising, contracting, assembling a team for a student production and having the support of an institution behind it was invaluable learning that directly equipped me with lifelong collaborators and friends, but also gave me transferable and scalable skills to succeed in my career.
What do you miss about college, SDA specifically?
Access to our professors and mentors. The School of Theatre (now the School of Dramatic Arts) curated an excellent group of artists to inspire us, teach us and give us important life lessons.
Was there a class or professor that was particularly meaningful or influential during your time at the School? Why?
There are so many—and I am not sure this is a comprehensive list, because it's been over 11 years since I was a student—but they include: Luis Alfaro because he served as a mentor and inspiration, he took extra care in preparing and supporting Latino students and still is a great mentor, ally and admired artist and educator (and he just texted me a meme as I was writing this); Tina Haatainen-Jones because she opened my eyes to the world of arts education and gave me permission to dabble in multiple areas of design and storytelling, and because she is also a wonderful costume designer; and Paul Backer because he believed in my crazy ambitious student productions, and would sign off on all of our paperwork, thus giving us official permission to explore spaces and locations creatively—and most importantly, because he would sit through all of our shows, as bad or as good as they were, sometimes even multiple times. He was loved by so many!
What (if any) productions did you work on?
I was the costume designer for the spring musical in 2012 City of Angels and the spring musical in 2011 On the Town. I also designed many other productions including Be Aggressive, Dracula, A Bright Room Called Day—the list goes on and on.
What lessons from your SDA training have you applied to your professional life?
The process of making art, and the importance of communicating the value of the performing arts.
What can students do during their training to prepare themselves for the professional world?
Take risks while in college! Find an internship and give 1,000% of yourself to it. Network and see as much theatre as you can—at LORT houses, 99-seat and commercial venues. I am committed to seeing 52 shows every year, and truly, that is how you organically network, keep learning and remind yourself why you do what you do.