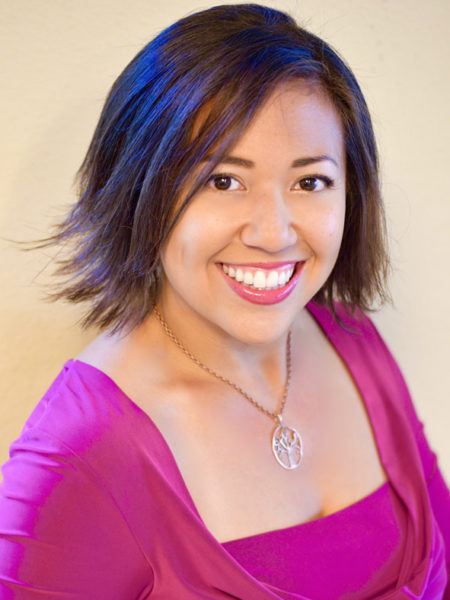 In our Alumni Q&A series, we caught up with Kimiyo Bowlby BA '10. The alum shares about the role her SDA degree has in her current field, advice to students on becoming a well-rounded artist and more.
About the Alum
Kimiyo Bowlby graduated from the USC School of Dramatic Arts in 2010 with a bachelor of arts degree in theatre. She received her master's of education in school counseling through USC (2020) and is a child and family therapist, where she also researches the impact of the arts for mental health and promotes policies for arts funding. Prior to her new role, she was a counselor, developing theatre and dance therapy curriculum for teen substance abuse patients.
One of her most recent works include illustrating the children's book Racing for the People, a light-hearted story about a serious time that captures the lives of Olympic runners and civil rights activists Tommie Smith and John Carlos — who made history on October 16, 1968, by raising their fists for racial equality to a world audience.
---
Tell us a little bit about your professional background.
Bowlby: I graduated USC with a BA Theatre and Dance minor, and my original plan was to start working in L.A. I ended up being offered an internship position in Japan with an international nonprofit, and decided to take that for two years. That took me to working at the University of Hawaii for four years. I then decided to get my master's in school counseling through USC's online program and research the benefits of theatre and dance therapies for students.
What are you currently working on professionally?
[In February, I began] a new role as a child and family therapist, where I hope to continue to research positive impacts of the arts for mental health and promote policies for arts funding. [Before that, I was] working as a counselor at a teen substance abuse treatment center, where I have focused on developing therapy curriculum for theatre and dance and integrating those therapies into the patients' treatment.
What was your best USC experience?
I had so many amazing USC experiences, there's no way I could pick just one! USC has so many wonderful traditions, from tailgating along Trousdale [Parkway] to the senior fountain run. One of my favorite memories was when my sorority, Alpha Delta Chi, won Songfest for the first time with Theta Xi. It was just a five-minute production, but getting to be able to direct and choreograph it was so much fun, and even sweeter when we won!
What do you miss about college, SDA specifically?
I miss USC football games! But also all of the opportunities to experience live theatre and collaborate creatively with others. There was always a show to be seen or perform in, always a student film to act in. There was nothing like it. My best experiences were being able to collaborate with my peers — staying up all night for a 24-hour film competition, acting in student films, rehearsing for Repertory Dance Company productions, and working on independent student plays.
Was there a class or professor that was particularly meaningful or influential during your time at the School?
All my theatre classes were exceptional, but the ones that really stood out were Acting Shakespeare, my theatre class with Anita Dashiell-Sparks, and Stage Combat! The acting classes taught me to trust my instincts, and the professors helped me believe in myself. Stage Combat was simply the most fun class I ever took at USC, and the only 8 a.m. class I actually enjoyed waking up for!
What (if any) productions did you work on?
I tried to be as versatile as I could and not just act in productions. As a member of the USC Repertory Dance Company, I performed in all of those productions — including my favorites of Dancing Through Neverland and Charlie and the Chocolate Factory. I worked on costumes for the musical The Pajama Game. I was the assistant stage manager for a student play called Acts of Contrition. At the time, my plan was to work in film, so I tried to do as many student films as possible as well.
What was your favorite theatre at SDA? Why?
The tiny black box theatre was so fun because of the intimate setting and in that theatre, I was able to enjoy so many friends' independent productions, but there was nothing like performing in the Bing Theatre!
What can students do during their training to prepare themselves for the professional world?
Work with as many different people and branch out as much as you can. If most of your work is stage, try a student film. If you're an actor, learn to run a light or sound board or sew your own costumes. If you're a designer or stage manager, take acting classes. The more well-rounded you can be, the more understanding you will have of your own craft and the collaborative process. Get outside your comfort zone, and not just with theatre. Try something new just for fun — there are a million clubs and organizations at 'SC, this is your chance to learn as many new things as you can, because you never know when having a certain skill will come in handy in the future.
What lessons from your SDA training have you applied to your professional life?
EVERYTHING. I still remember an assignment for an auditioning class, where we had to go up to random people and talk to them as if we'd been friends for 20 years. Every job I've had since leaving USC, I've literally had to do that. I've had to immediately connect with others and collaborate with them creatively. And even though I haven't acted professionally since leaving 'SC, I've still been able to choreograph, direct, produce and, most importantly, I've been able to teach theatre and dance, as well as develop theatre and dance curriculum for mental health and substance abuse therapy.