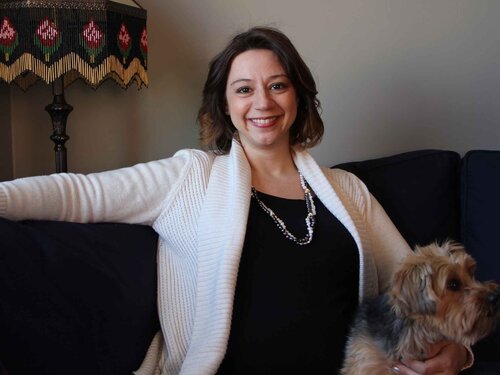 In our Alumni Q&A series, we caught up with Kate Cannova BA '03 in which she shares about her love for producing, her life-changing experience at SDA, advice to students and more.
About the Alum
Kate Cannova is the founder of Kate Cannova Productions, a New York City-based production company working coast-to-coast, from downtown to Broadway to the West End.
Broadway productions include Head Over Heels, The Visit (Tony nomination), The Scottsboro Boys (Tony nomination, Olivier nomination, Evening Standard Best Musical) and The Anarchist. Other work includes The Apartment: A Play with Four Sides (NYC Fringe Festival), The Vagina Monologues (LA), The Tommy Awards and countless live experiences, and corporate and private events. She is currently developing two new musicals: Trails (by Jeff Thomson, Jordan Mann and Christy Hall) and Cursed (by Zach Adam and Eidan Lipper).
Cannova has nearly 15 years of experience in management consulting and marketing strategy, recently leaving her role as a VP at TBWA to embrace the flexibility and demands of being her own boss (or at least being second-in-command to her 3-year-old son). She is a two-time Tony nominee, an Olivier nominee, a Drama Desk nominee and an Evening Standard winner.
Cannova is a proud graduate of the University of Southern California's School of Dramatic Arts and has a Master's Degree in Producing and General Management from Columbia University. She is the recipient of She Runs It's Working Mother Of the Year Award and is a proud member of the Broadway Women's Alliance. She is a former member of the USC Alumni Association Board of Governors, a Widney Alumni Award and USCNY Spirit of Troy Award recipient, and proudly serves on the USC SDA Alumni Leadership Council.
---
Tell us a little bit about your professional background. 
Cannova: Like so many, I started as an actor as a small child and always had the theatre bug. Growing up a stone's throw away from Broadway, live theatre was a part of my life from a very young age. I performed professionally — including on Broadway, for over 15 years — but in 2003 discovered a knack, and my love for producing. It all started with a production of The Vagina Monologues for V-Day USC at Ground Zero on campus. I made a complete switch to producing only in 2009 and have since produced plays and musicals off-Broadway, on Broadway and in the West End, and have been honored to receive two Tony nominations, an Olivier nomination and a few others nods.
What are you currently working on professionally? 
I currently have two new musicals in development: one (with a few fellow Trojans, including Jeff Thomson and James Snyder) is pretty far down the path and had actually been preparing for an off-Broadway opening before the pandemic shut the industry down. We are still chugging though, and hope to have a reading in the next couple of months and then plan for a production once there is more guidance from the states and the unions about what will be allowed and when. The other new show is much earlier in its lifecycle, but the music is really wonderful and we couldn't wait to get it out into the world, so [streamed] a concert version of the show as a benefit for Broadway Cares/Equity Fights AIDS on April 6, 2021.
What was your best USC experience? 
I could tell you, but then I'd have to…
Why did you choose to become involved as an alumni volunteer at SDA? How long have you been volunteering at SDA and what has been the most rewarding experience thus far as a volunteer? 
How could I not? My time at SDA changed my life – it changed how I saw myself, it helped me reframe my perception of what I was capable of and what I could make possible for myself. It also taught me how to connect my creativity to the concept of global citizenship and being impactful in your community in a very real way. I basically started volunteering as soon as I graduated and I'm still going strong!
What are some of the main reasons why you choose to support SDA with your charitable giving? 
Of course I want to give back to the institution that gave so much to me, but I am also one of those people that believes that theatre (quite literally) saves lives and that it is central to the DNA of humanity, core to civilization. Arts Education is ESSENTIAL.
Do you have a particular passion program within SDA? 
Not specifically…yet. I'm hoping to one day see (or help to create) a track for female producers, designers and creatives – we need more women behind the table, more women in decision-making roles, more women driving the work and setting – elevating – the standards by which we can create.
Was there a class or professor that was particularly meaningful or influential during your time at the School? 
This one is too hard to answer! I came to USC because Jack Rowe made it my dream school while I was in the audition room as a high school senior. Jack Rowe, Michael Keenan, Kelly Ward – all helped me to exceed my own expectations as an actor. Eric Trules. Marilyn McIntyre. And of course, Paul Backer may have been one of the most special souls this earth has ever witnessed.
What (if any) productions did you work on? 
I was lucky to work on an SDA production every single semester, except when I was at BADA, either as an actor or on the stage management team. A Lie of the Mind, On the Razzle, Pride and Prejudice, Pippin, The Seagull to name a few. I got to play Barbara in Major Barbara, which was…major.
What was your favorite theatre at SDA? Why? 
I spent the most time in the Scene Dock and it will always, always have a very special place in my heart.
What can students do during their training to prepare themselves for the professional world? 
Their homework. Your agent gets 10% because you should be doing 90% of the work – take the time to understand where you fit in the media marketplace, find unmet needs and fill them, create content and opportunities for yourself if you're not satisfied. Learn how to do your taxes. Be good at Excel and understand resource allocation. Never rely on other people to help you read and understand legal documents. That's not to say that you shouldn't outsource business management to trusted partners, but they should be providing you guidance…not leading you blindly. You are your own best, brightest and most brilliant advocate.
What lessons from your SDA training have you applied to your professional life? 
Too many to count. But I think that a lot of what makes me a good producer now I learned from being trained at USC by a great production stage manager (in this case, Winnie Lok), and by wonderful designers, directors and teachers. Because, after spending my whole life to that point on stage, they made me a 360-degree theatre artist.