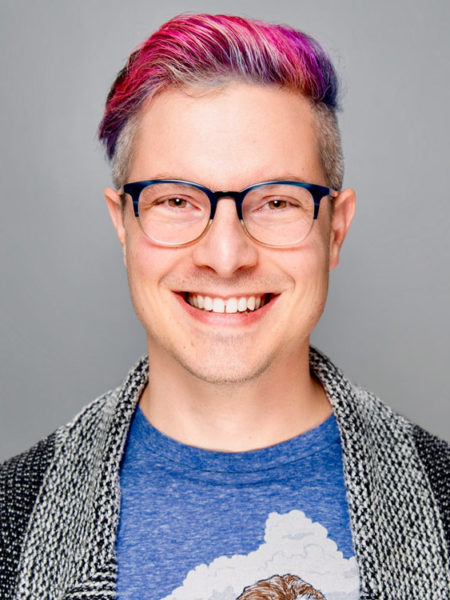 In our Alumni Q&A series, we caught up with JP Karliak BA '03 to find out about the alum's many projects currently in the works, running the USC Lambda LGBT Alumni Association, advice to current students and more.
About JP Karliak
Voiceover actor, writer and snappy dresser, JP Karliak is the voice of Boss Baby in The Boss Baby: Back in Business and has played such iconic characters as the Tin Man, Wile E. Coyote, Willy Wonka, and a slew of Marvel heroes and villains — including Loki, the Vision, Hawkeye, Wiccan and even Black Cat. Other animated credits a neurotic dog in Secret Life of Pets 2, Batgirl's gay BFF in Batman: The Killing Joke, and the stoic Kozo Fuyutsuki in the Netflix dub of Neon Genesis Evangelion. On the interactive side, notable credits include N. Tropy in Crash Bandicoot 4: It's About Time, Rex Dangervest in The Lego Movie 2 Videogame and Wolfgang in the Skylanders series. Karliak  is also an award-winning solo performer with his one-man show Donna/Madonna, and an advocate for LGBTQ+ representation in media. He is a co-founder of the non-partisan organization NerdsVote, linking cosplayers, gamers, con-goers, and pop culture fans of all kinds to voter registration opportunities, and co-hosts NerdsVote's biweekly Instagram Live show Between 2 Nerds featuring celebrity "Notable Nerds" sharing what voting means to them.
---
SDA: What are you currently working on professionally?
Karliak: A few new animated titles that I can't mention yet, but two interactive titles I worked on were recently released: Star Wars: Squadrons and Crash Bandicoot 4: It's About Time, as well as another season (and an interactive episode!) of The Boss Baby: Back in Business. I also was in an audio version of Dear ONE, a play by Josh Irving Gershick MFA '05 recounting letters sent to ONE Magazine, the first U.S. pro-gay publication. This version was for the Diversionary Theatre in San Diego and had a great cast, including George Takei. Outside of that, I've also been co-hosting Between 2 Nerds, a twice-weekly Instagram Live show by the voter registration organization I co-founded, NerdsVote. We chat with "Notable Nerds" about pandemic life, hobbies, food, and most importantly, why voting matters to them.
What was your best USC experience?
Meeting amazing people. From mentors to very dear friends, it's the relationships I've made — professional and personal — that have really stayed with me most.
Why did you choose to become involved as an alumni volunteer at SDA? How long have you been volunteering at SDA and what has been the most rewarding experience thus far as a volunteer?
I worked at USCAA, running the USC Lambda LGBT Alumni Association for a number of years, so I saw firsthand the impact that alumni volunteers could have, and witnessing the new direction the university is taking under Dr. Folt is really what inspired me to return as a volunteer. The best part hands down is interacting with the students, both as a mentor and in programming like the SCuppers. It's seeing the drive and innovation in their journeys that refresh my passion for my own.
What are some of the main reasons why you choose to support SDA with your charitable giving?
Diversity-based initiatives like the Alexandra Billings Scholarship are a vital part of making world-class arts education accessible to all. As the first scholarship in theatre designated specifically for members of the queer community, this award reminds me that USC is a trailblazing school, and I'm happy to contribute in some small way to that.
Do you have a particular passion program within SDA?
I think those scholarships are the major one. But anything that positively impacts a student's journey is up there. Developing new ideas and initiatives with the Alumni Leadership Council has been a real treat.
Was there a class or professor that was particularly meaningful or influential during your time at the School?
Kelly Ward. Though he is best known for his musical theatre class, it's his professional experience as an animation director (paired with his generosity of time and knowledge) that really helped me get started in my voiceover career. Kelly's advice gave me my first steps on this crazy path.
What (if any) productions did you work on?
I played an Australian ranch hand in Picnic at Hanging Rock, a neurotic tango dancer in Ring Around the Moon (directed by the late Michael Keenan, that wonderful man), and the stable owner in a student production of Equus.
What was your favorite theatre at SDA? Why?
Probably the Scene Dock. Though I was a BA, I had a bunch of friends in the BFA class, and we were always seeing their shows there, each with a wildly different use of the space.
What can students do during their training to prepare themselves for the professional world?
If we're talking voiceover, then buy an inexpensive mic and start recording: read aloud, create character voices based on people watching and bad impressions, develop your toolbox of character work. Oh, and studying a little business… some marketing, finance, accounting… all come in handy when preparing to run the business that is you!
What lessons from your SDA training have you applied to your professional life?
Joe Hacker's "20 Year Friend" exercise: it humanizes everyone, from casting directors to celebrities to anyone that might make you nervous. We're all just people. Oh, and not SDA, but the GE class I took in Phonology was more helpful than I can possibly say when it comes to building accents and voices!