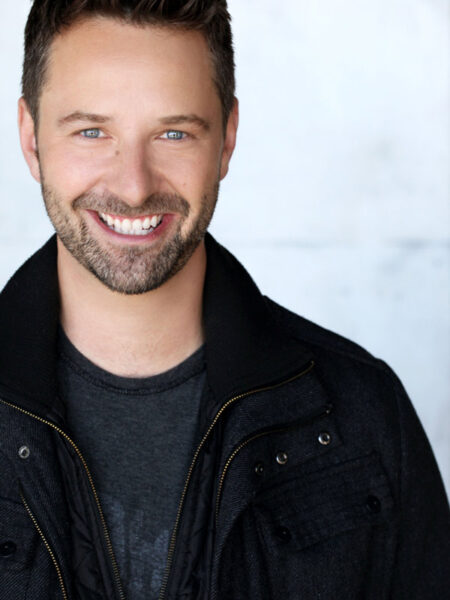 In our Alumni Q&A series, we caught up with Joe Towne BA '95 in which he shares what he's been working on, advice on preparing for the professional world and more.
About the alum
Towne is a screen and stage actor, and an award-winning writer and director. He is the CEO and the founder of performance training company The Performer's Mindset, and has coached businesses and artists for almost two decades.
---
SDA: Tell us a little bit about your professional background.
Towne: I've been working as an actor since graduation. In theatre in New York, Los Angeles, Edinburgh (four seasons) and in Paris. In TV and film since 1999. It has led me across the country, to Canada, and even to Pakistan. I began creating my own content in 2003, short form (one acts, short films, web series, etc.) and eventually moving into feature films, television shows and a book.
What are you currently working on professionally?
I'm currently shooting a feature film in Hawaii and launching my podcast this fall.
I also started a training company a few years back called The Performer's Mindset, which offers science-backed practices to help support artists, athletes and executives think and train to be more of their best selves before, during and after they perform. We address everything from nerves to how to train confidence, to addressing better ways to learn lines and work in the shorter timeframes our industry is demanding of us.
Lastly, I partnered with a production company in Canada to produce a slate of three films set in the U.S., Canada and Europe that I helped conceive and develop. Three love stories. Cannot wait to share those.
What was your best USC experience?
My acting teacher Eve Roberts organized a trip to London to see some theatre over winter break. I organized a group of my friends (a handful of theatre students, a film student) — and together with Eve, teachers and some actors from Occidental College, we did the trip.
It included plays and talkbacks and other cultural experiences around London, as well as Stratford-upon-Avon. I would like to help give other people a similar experience as it was a real game changer for me in how I saw the world, saw my craft and how inspired I was to act in theatre in the UK after that.
Was there a class or professor that was particularly meaningful or influential during your time at the School?
Several classes were. John Blankenchip changed the way I looked at myself, both in my time at USC and after I graduated. He helped me push beyond my limits of what was possible to do in rigorous conditions. It was a blast getting to do the productions of Reservoir Dogs and Star Wars in Edinburgh and the French American Festival for the Arts. Plus, John produced my first full-length original play the summer of 1998 at the Scene Dock and it helped me solidify that I was a creator and not just an actor.
What (if any) productions did you work on?
Six Characters in Search of An Author was a classic reimagined.
Shakespeare with Rod Menzies. We did Twelfth Night at the Bing. Loved getting to do that production.
Also, several New Works. Holy Toledo at the Massman with Danny Strong, George Hertzberg and a handful of other amazing artists.
And Star Wars Trilogy in 30 Minutes conceived of, written and directed by Patrick Gorman. Developed with our entire cast. And when it opened, it had instant buzz which had lines around the block. We were absolutely kids again and it led to doing that play on and off for about a decade.
What was your favorite theatre at SDA? Why?
My favorite theatre at SDA was the Massman. Growing up in New York, I went to see plays at Circle in the Square with my grandmother. I like being so close to the action. In the intimacy of the Massman Theatre, I felt like I was "up there" with my colleagues every time. It felt like home.
What can students do during their training to prepare themselves for the professional world?
I believe students can do several things:
Build relationships and learn how to cultivate them over time. Relationships are everything. How can we all help one another rise?
Take tons of risks and encourage themselves to make mistakes and fail…it only gets harder when stakes are on the line.
They can learn what it feels like to BE THOROUGH, to GO FOR IT AND LEAVE IT ALL OUT ON THE FLOORBOARDS. Also, learning the other jobs being done around you makes you a better collaborator, more thoughtful and having more empathy…which we need now more than ever.
What lessons from your SDA training have you applied to your professional life?
The lessons I learned from my SDA training ranged from:
What it means to "just be myself" from Jim Wilson.
What it means to have someone believe in you and champion you as an artist (Paul Backer, Eve Roberts, John Blankenchip, Rod Menzies).
How sometimes not getting the part leads to an even greater win that you cannot see. It's often not linear.
Ultimately, it taught me that it's all in our hands. We can create our own work (and need to). We need to learn to advocate for ourselves because agents and managers and lawyers will only do so much. And while there are plenty of stories that we can tell ourselves that take away all of our power and agency and give them to others, we have a lot more we can have influence over than is often discussed.
---
Share your memories with us!

To help celebrate our 75th anniversary, the School of Dramatic Arts is collecting memories from our community to share during our year-long celebration. Submit your stories from your time at SDA through words, images or videos. #SDA75