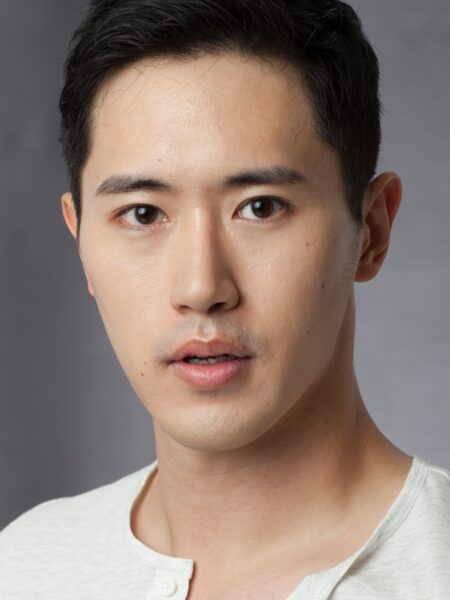 In our Alumni Q&A series, we caught up with Jinwoo Jung, MFA '16, to discuss learning from failure, falling in love at the Scene Dock, and KPOP.
---
Tell us a little bit about your professional background.
I've spent the last couple of years mostly acting, singing, and teaching. After doing my MFA acting work at USC, I've been fortunate enough to act in regional, off-Broadway, and Broadway shows, as well as some film and television projects. Some of the shows I've appeared in include the Broadway National Tour of Miss Saigon, the off-Broadway musical KPOP, and film and television work including Glass, Ghost in the Shell, The Interview, and others. I also appeared in regional productions of La Cage Aux Folles and The Christians.
What are you currently working on professionally?
I'm currently working on this amazing new Broadway musical called KPOP. It's a story about K-pop artists going through various identity challenges as they try to do their very first concert here in New York. This is a very unique show, the type of show you rarely see on Broadway, in terms of the storyline being Korean with an all-Asian cast, aside from one actor. I play the role of Juny, the secret boyfriend of the lead solo artist MWE, played by Luna from the K-Pop girl group f(x). The show was originally off-Broadway (A.R.T./N.Y.) and earned a lot of awards and accolades in 2017. I was also part of the cast at that time, and it was one of the most fulfilling experiences of my life. After many years of workshopping and developing the show, we finally started rehearsing for Broadway. We start previews on October 13 and open on November 20 at Circle in the Square Theatre. There are at least four other USC people involved in the production – Kate Mina Lin (SDA student), Sasha Bartol (Thornton grad), Sarah Hahm (BA '19), and Karlie Teruya (BA '21) are all Trojans!
What was your best USC experience?
The three-play repertory. Three rep was the pinnacle of our program and it was designed to challenge each of us as actors. I failed horribly in many ways throughout the process, but that's also where I learned the most about myself and discovered the most about my craft.
I'm also grateful that three rep was carefully tailored for each individual actor. For instance, one of our shows was The Twilight: Los Angeles, 1992. I played different Korean and Korean-American characters, based on real people, and was able to use both Korean and English on stage.
Once I left school, I learned that most programs don't offer that kind of highly individualized experience. It was a blessing that I took for granted back then, but I wouldn't have gotten the experience anywhere else besides USC.
What do you miss about college, SDA specifically?
I miss the classes. I miss having the opportunity to show up and fail every day in a safe, supportive environment. It's hard to find those kinds of opportunities once you're out of school.
Was there a class or professor that was particularly meaningful or influential during your time at the School? Why?
There were so many, but if I had to choose one, I would have to say Andy Robinson. He was the spirit animal of our program. I can still hear Andy's voice in my head, asking "What's the story?"
What (if any) productions did you work on?
For SDA productions, I worked on the Odyssey Project, The American Clock, As You Like It, Everything You Always Wanted to Ask Chinese People but Were Too Afraid to Ask, The Oresteia, The Threepenny Opera, and The Twilight: Los Angeles, 1992.
What was your favorite theatre at SDA? Why?
Scene Dock. That theatre is so unique in its own way. The size, the location, and the shows that are put on there. It's a relatively small black box theatre so you really have to expand your imagination and get super creative. Scene Dock is also where I saw my first SDA show! It was during callback weekend and I immediately fell in love with it.
What can students do during their training to prepare themselves for the professional world?
You have to train yourself to enjoy the process and not stress out over the results. You have to accept that everyone has a different journey, a different story. Stay away from comparing yourself with others, and try not to take things personally. 99% of the time, it's not about you.
Many of the amazing actors, writers, and directors I've met and have worked with in the professional world were not the people with the most talent, but rather were extremely efficient at accepting and learning from their failures. They know it's part of the process. They don't take things personally, but rather learn from them and move on.
What lessons from your SDA training have you applied to your professional life?
Absolutely everything. Everything you learn from your training is another tool in your toolbox. It may not be useful to you at one particular moment, but it is likely to be something that will help you at some point in the future.