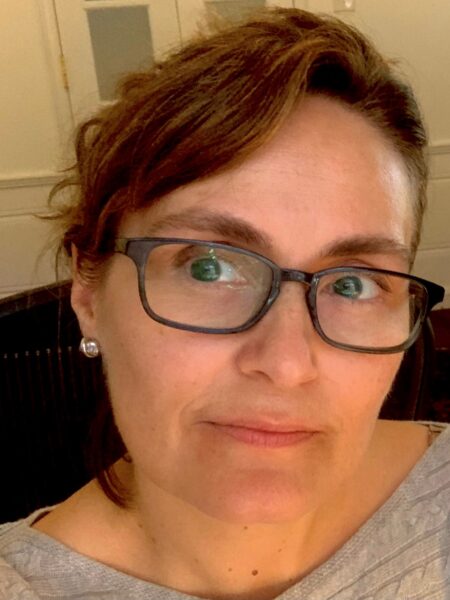 In our Alumni Q&A series, we caught up with producer Jennifer Westin BA '00 to discuss her journey from LA theatre to Hollywood's top studios, The Vagina Monologues, and why young actors should learn the business side of entertainment.  
---
What was your best USC experience?
There were many, but the best had to be meeting my husband. Our relationship is actually entirely thanks to SDA. I was in a show my senior year. A friend from the Cinema School, Hans, came to see it and brought one of his friends (Andrew). I guess Andrew and I met that night but in the post-show blur I don't remember it. Then a week later, Hans asked me to be in a short film. When I showed up on set, Andrew was the DP. I found out later that Andrew had orchestrated the whole thing after seeing me in the show.
What do you miss about college, SDA specifically?
I miss the cocoon of support – from peers and faculty. For me, SDA was a wonderful place to try, and fly, and fail. Each Brent Blair class was an opportunity to practice growth, vulnerability and connection. Each audition was for a faculty member who knew you and wanted you to nail it. Each post-show soiree with the cast and crew was a comforting reminder that we were in it together.
Was there a class or professor that was particularly meaningful or influential during your time at the School? Why?
Lora Zane! I had a class with her senior year where we workshopped parts of The Vagina Monologues. Lora pushed us out of our comfort zones as we wrestled with material that challenged our young conceptions of gender, sexuality and power structures. At the end of the class, a group of us felt we were not quite done with the material. Lora said, "then keep going." Our group of five women decided to mount a rogue production. In a leap of faith that would shape the rest of my career, I took the lead in producing the show. We got SDA to give us funding; secured two nights at the 24th Street Theatre; got press; sold tickets; staffed the house. And, of course, rehearsed the show itself. Lora was our faculty sponsor and was there at every turn – guiding, comforting, nudging.
Tell us a little bit about your professional background.
After graduation, I spent time in a small theater company in West LA. There I continued the transition from actor to producer. I produced equity-waiver theater in LA and NY, then transitioned to film. I was an independent producer for years, working primarily in narrative features. I went in-house as a production executive about eight years ago and have spent time at Netflix, MarVista Entertainment (now Fox) and Topic Studios.
What are you currently working on professionally?
I run production for Topic Studios – an independent financier and production company based in NY. Our slate spans features like Spotlight and Spencer, podcasts, documentaries and television (100 Foot Wave on HBO). Two movies we produced and debuted at Sundance are coming out in the next couple months – Randall Park's directorial debut, Shortcomings; and Theater Camp, starring Ben Platt and Amy Sedaris.
What lessons from your SDA training have you applied to your professional life?
The importance of building a community. My people have been critical in sustaining me through challenges in my career, and also instrumental in encouraging me to reach new heights.
Also, be a whole person. At USC, I took classes in theatre of course, but also a whole host of other areas from film to Greek mythology to quantum mechanics (to be fair, the latter was a "quantum mechanics for humanities" class). The people I met and the different perspectives I gained helped 1) get me out of my sometimes-myopic artist anxieties and 2) broaden my network and knowledge base which have only helped me as a content creator.
What can students do during their training to prepare themselves for the professional world?
Of course this is a producer's advice: learn the business of entertainment. No matter what part of the art and craft of theatre/film/media you want to practice, having a solid handle on what drives the economics of our industry can only be an asset. USC has so many options for learning about the entertainment industry from myriad perspectives. Many successful actors, writers and directors are also producers and entrepreneurs. It affords them agency in an industry that can be brutal to artists.