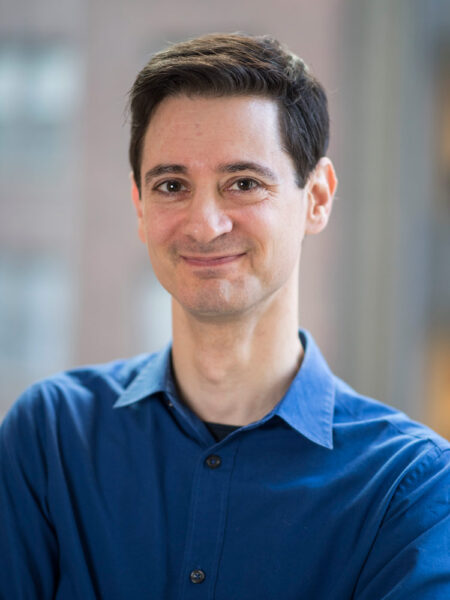 In our Alumni Q&A series, we caught up with Jason Ginsburg BA '96 in which he shares about Commedus Interruptus, creating "other" goals, a valuable lesson he learned at SDA and more.
About the alum
Jason Ginsburg is the senior digital producer for Discovery Channel. He also runs @FakeThemePark, a Twitter account satirizing theme parks, based on his time as a tour guide at Universal Studios. He has co-written two comedy songs and released two books of content from the account.
He graduated from USC with a major in theatre and a minor in cinema-television. In his junior year, he won the Jack Nicholson Award for Outstanding Undergraduate Actor. After four years with the USC improv troupe Commedus Interruptus, he and fellow alumni formed the Naked Apes sketch troupe and performed in clubs around Los Angeles. Jason has appeared in plays at the Knightsbridge Theater, the Santa Monica Playhouse, and the Hudson Theater, in addition to commercials and TV shows. He also completed the conservatory program at Second City Hollywood and was on a house team.
In addition, Jason has written, produced or starred in comedy videos for National Lampoon, Playboy, Home Shopping Network, Animal Planet and Science Channel. His web series for Playboy, Tales of Tinder, was commissioned as a pilot for Oxygen. Jason co-produced and co-starred in the short film Padmé, which won the top prize in the Star Wars Fan Movie Challenge, picked by George Lucas. Recently, an independent producer hired Jason to write four screenplays set in the same fantasy universe. The first film, The Sorcerer Beast, comes out in 2022 and stars Corey Feldman and Jeffrey Combs.
Jason lives in New York with his wife, a fellow former tour guide whom he met in the break room at Universal. He continues to pursue writing opportunities in all media.
www.jasonginsburg.com @Ginsburg @FakeThemePark
---
Tell us a little bit about your professional background.
Ginsburg: I first pursued an acting career, appearing in two commercials and five episodes of a TV show. I had been doing comedy improv at USC with Commedus Interruptus, and some of my fellow alumni formed the Naked Apes. We started making comedy videos and working with the National Lampoon. Those videos got me work at social media agencies just as Facebook and Twitter were taking off. That led to social media jobs at various online entertainment companies — Flavorwire, Show-Score, Talent Recap. Those opportunities got me a job at Discovery, on the social media teams for Animal Planet and Science Channel. And that led to my current role, running Discovery GO and Discovery Plus. The journey didn't make sense at the time, but looking back, I see how it all came together.
What exciting projects are you currently working on professionally?
The Age of Stone and Sky saga will be interesting. I was hired to write the four screenplays of an original fantasy universe. The first film comes out in 2022. The second film just wrapped production. And now the third film is in the very early stages of pre-production. It's my first paid work for the big screen.
I can't neglect @FakeThemePark, which I've been running since 2010. It has given me a chance to create written jokes, funny graphics, two comedy songs and various silly videos. I was even able to monetize the content through two books I've released. The account was anonymous at first, so I only appeared on podcasts as "Murph Gantly," the cranky founder and CEO, who's a cross between P.T. Barnum and Ebenezer Scrooge. Now that was an improv performance! It's been great, since the likes, replies and shares I get are a sort of daily applause from the social media audience. However, I'm trying to channel my creativity into bigger projects, so I've announced the account is shutting down on March 5. So that means another round of podcasts and blog interviews.
What was your best USC experience?
Commedus Interruptus. It was the purest form of theatre — outdoors with no stage, no costumes, no props. We ran around barking "Free improv!" to announce our shows. We knew who was going to be in which games, but that was our only preparation. We performed near the fountain in front of Doheny. The audience would sit on the grass, but some folks would pass by, notice us, stand to watch a game or two, and then move on. I hope I brought a little joy to their Fridays. In four years, we were almost never rained out. I also remember Bike Patrol yelling "Walk your bike!" in the background.
What do you miss about college, SDA specifically?
Every day, you woke up and got to create. You could take chances and make bold choices, and if you failed, the only "consequences" were knowledge and experience. You were surrounded by fellow actors, writers and directors. You didn't have to worry about selling tickets, never mind paying rent or doing laundry or all those adult things. You could just concentrate on your craft, whether that meant improv or monologues or experimental theatre, or doing some crazy interpretation of Shakespeare. And you could play any role. I played the King in The Cave Dwellers. That character must be at least 60 years old. And here I was, portraying him at 20.
Was there a class or professor that was particularly meaningful or influential during your time at the School?
Maybe an obvious choice for someone of my era, but Paul Backer's theatre history classes were always a joy. He was even a sponsor of Commedus for a while. I started as a BFA, so my freshman year I had the honor of constantly disappointing Anna Stramese.
What (if any) productions did you work on?
All told, I was in 10 shows in USC. That includes student productions like Antigone, BA shows like Two Gents, and mainstage shows like A Flea in Her Ear. I think my favorite production was actually three shows for Experimental Theatre Workshop — I got to star in Titanic, run lights for Trust and direct my own musical parody Forbidden Theatre.
What was your favorite theatre at SDA? Why?
It was old and falling apart, but how could you not love the old Greenroom Theatre? It was the perfect venue for the scrappy, can-do spirit of Experimentals. There were all these signatures backstage, and my class added our own. I was very sad when it burned down.
What can students do during their training to prepare themselves for the professional world?
I suggest they ask themselves a question: "What do I consider success?" Does being a successful actor mean acting in national commercials, but never on a TV show? How about doing voice work for animation, but never appearing on camera? Or being a supporting actor, but never the lead? What if you were in a comedy troupe, or did stand-up, or were in one local theatre's play every year? Would you consider that "being an actor"?
There's no right answer, and the answer can change over time. But I think it's an important question to assess your happiness and fulfillment. I'm sure lots of actors want to win an Oscar, but only two people of their gender are going to do that each year. So what are their other goals? And these goals can go beyond acting to include writing, singing, directing, producing. USC can help there, too — through minors, double majors or just taking classes in fields that are of interest.
What lessons from your SDA training have you applied to your professional life?
No one is going to do the work for you, so don't wait around. I thought getting an agent meant that my acting career was taking off. But then I realized I was just waiting for my agent to call, which took me out of the equation entirely. I could spend my whole life waiting. So I took classes at Second City Hollywood and made comedy videos and started a parody Twitter account. I learned to spend as much time as I can producing my own content, making contacts in the industry and volunteering for others' projects. And not being shy about asking for the opportunities I want.