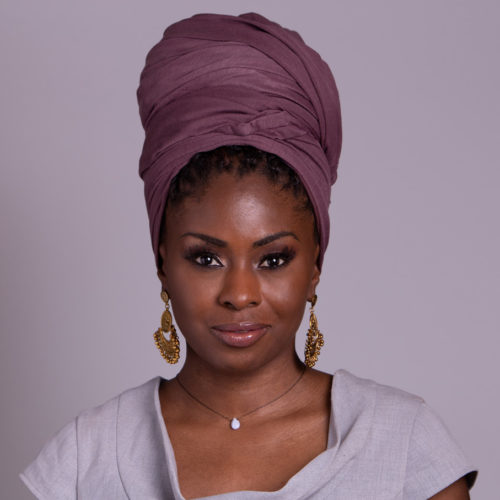 In our Alumni Q&A series, we caught up with Jameelah Nuriddin BFA '06 in which she shares about uplifting Black womxn, learning to have a deep trust in herself, advice to current students and more.
About the alum
Jameelah Nuriddin is a socially conscious film and media producer, creative executive, and award-winning film editor. As a storyteller, Nuriddin's work has always focused on giving voice to marginalized communities, particularly black womxn. Nuriddin recently produced an animated docuseries for black teenage girls in Alabama empowering them to become leaders in local and state government. Inspired by the 'Me Too' movement, Nuriddin partnered with AWE (Advancing Women Executives) providing corporate womxn from Fortune 500 companies (Uber, Netflix, Visa, etc) with gravitas and public speaking training to bring gender parity and equity at the mid-management and executive level. She is currently producing branded content, backed by the National Institute of Health, to enhance the field of science by highlighting and encouraging diversity amongst womxn, Black, and Indigenous scientists.
---
Tell us a little bit about your professional background. 
Nuriddin: Hello! My name is Jameelah Nuriddin and I entered the entertainment industry at the age of 12. I learned the roots of storytelling by acting alongside Black American sages, Cicely Tyson and Don Cheadle. I'm an NAACP award-winning actress. Over the years I've worked as a socially conscious film and media producer, creative executive, and an award-winning film editor. With over 10 years in commercial production, I've had the pleasure of collaborating with top international brands like NIKE and Dove. Hailing from Atlanta, GA, my connection to my southern roots and African heritage drive a lifelong passion for social change using the immeasurable power of storytelling. Deeply inspired by volunteering through USC for the Joint Educational Program (JEP), the seed was planted to begin my non-profit work. I co-founded 'Imaginese Youth Workshops' where I developed curriculum and guided middle school and high-school-aged children in East and South Los Angeles, and Bali, Indonesia. My program 'Confidence through Creativity' still provides artistic mentorships in film, theatre, dance, poetry, and design while connecting students to a social justice issue in their community — creating multi-generational works of art exploring gang violence, human trafficking, immigration reform, food deserts, and wealth inequality.
What are you currently working on professionally? Specifically, could you also elaborate on the media you have been working on to uplift Black and Brown women? 
As a truth-teller, my work has always focused on giving voice to marginalized communities, particularly Black womxn. I recently produced an animated docuseries to increase the involvement of Black teenage girls in Alabama local government. It has inspired thousands of teens to take the pledge to register to vote when they turn 18, and encouraged onus to represent their communities. I'm also currently producing branded content, backed by the National Institute of Health, to enhance the field of science by highlighting and encouraging diversity amongst college-aged students. The project is called "The Face Of Science" and it aims to demystify scientific fields of study for young people of color, particularly Black and brown womxn.
What was your best USC experience? 
My best USC experience had to be producing and directing Macbeth at the outdoor Annenberg Amphitheatre. I put every ounce of detail and well-thought-out artistic merit I had into the Art Grant, which I applied to at the start of my junior year. Getting that grant which competed against visual artists, designers, filmmakers, and other performing artists felt like a tremendous win. It was the first time I had thousands of dollars at my disposal to create art. Casting, producing, directing, designing it for an outdoor theatre were all monumental in gaining confidence as a producer and creator. The bonds formed among castmates and the production team are still strong to this day! We were able to raise money and awareness through the production for charity through the Coalition to Stop the Use of Child Soldiers.
What do you miss about college, SDA specifically?
What I miss about SDA the most is that feeling of wild exploration. There was so much freedom in my SDA experience and I valued the ability to dive into a creative project fully, and unabashedly. This is what higher learning is for — I try to keep a piece of that in my adult professional life even though the pressures to maintain success are real. Ultimately, it is a mindset that we can cultivate at any time, but in college it is prolific.
What was your favorite theatre at SDA? Why? 
I always loved the Bing Theatre. Perhaps it was because it was the first USC stage I had the pleasure to act. I respected its size and yet its ability to still feel intimate. I didn't feel like I had to strain to connect to audiences there.
What can students do during their training to prepare themselves for the professional world? 
I strongly encourage students to take what they learn and mount their own productions. The experience (and chaos) of learning to do this will prepare you in ways you cannot foresee. It also opens you up to create the experiences and tell the stories you deem as important as opposed to waiting for an authority figure to decide where you should pour your attention. Older generations will not always have their fingers on the pulse of what is next, what is coming to the forefront — so it's up to you to trust your instincts and lead the way, even as a student. It will empower you and open your eyes to endless possibilities.
What lessons from your SDA training have you applied to your professional life? 
A deep trust in myself, ability, and instincts was cultivated through my SDA training. This lesson has touched nearly every aspect of my life. On a professional level, it has encouraged me to know and value my contributions, to ask for that raise, reach for that 'dream job,' and even to create the roles and titles I wanted seemingly out of thin air. Trusting how things will unfold and going with my gut is something that has brought me great success in my professional life. Professor Charlotte Cornwell also instilled in me a strong level of discipline to my work ethic which has benefited me greatly everywhere I go. Conversely, Barry Edelstein also helped me realize that sometimes we have to bend or even break rules to stay true to our highest self and that duality of those two lessons keeps me in a safe space of unruly play.
Was there a class or professor that was particularly meaningful or influential during your time at the School? 
This is a difficult question! I have cherished memories from many professors and there are words of wisdom from each one that I replay at least weekly to this day. Words from Jim Wilson, Lora Zane, Stephanie Shroyer (that one is actually a movement), Paul Backer, Brent Blair and Barry Edelstein replay in my mind often. There are two moments inspired by USC professors that are particularly meaningful in this chapter of my life. The first is with Andy Robinson, he taught a class modeled after The Grotowski Method. I've always been a physical actor — the physicality of a character becoming a gateway into meaningful performance. We were doing a section in animal work and I had chosen a big cat — a cheetah. The entire class was sitting in a big circle and he was calling students into the center one by one to embody their chosen animal study. Just the way he said my name as he called me into the circle revealed a part of myself that I thought no one else could see. He called my name like I was a warrior, like I was the Goddess of Destruction to be revered, feared and worshiped. That insight, from someone that I had just met, and his clarity on the essence of who I was energetically, was a type of inner rocket fuel. In that moment of recognition, I became the cheetah, I became the goddess, and I stopped apologizing for the grandness of my presence. The second moment was in a class with Professor David Bridel. After working on everything from clown work to Shakespeare I remember him coaching me on a monologue in front of the class. I trusted him because I confided in him often as I approached a character. In this particular class, while he was giving me notes something in me just clicked. I released tension, a need to "get it right" and then I simply spoke the words from a real and honest place. It felt like giving up, like detaching from the need to impress anyone — even myself. Now I recognize this feeling as surrendering. I use it often in my professional work now when I feel too much pressure or outside anxiety. That release and detachment has become much more accessible and vivid for me over the years. But it began really in that moment, when I experienced that … at will, and with David Bridel validating that experience. He simply turned to the group and said, "what just happened is extremely important."
What (if any) productions did you work on? 
I had the pleasure of working on 12 USC productions throughout four years in SDA. The first was my freshman year, fall semester, a mainstage production called Blood Wedding that was rooted in physical theatre, flamenco dance, and adaptation of the poetic words of Federico Lorca. I also was cast in the House of Bernada Alba by the same writer and director. I had two deep dives into Theresa Rebeck's work What We're Up Against and the lead role in Spike Heels. Other mainstage productions included The Laramie Project and The Vagina Monologues. I also performed in lots of student-run productions — Lee Blessings' Two Rooms stands out and I produced and directed Macbeth after being awarded an Art Grant to mount the production.