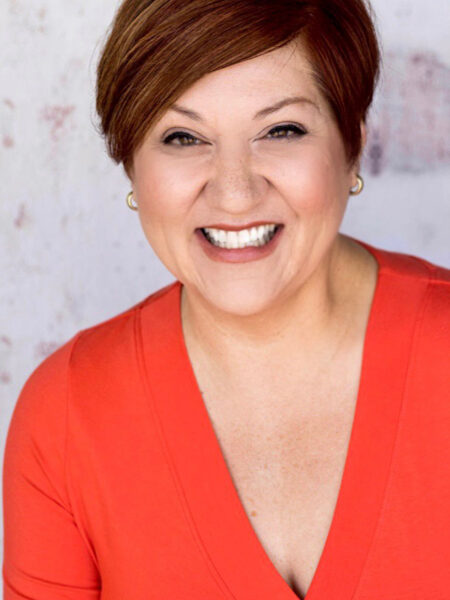 In our Alumni Q&A series, we caught up with Elizabeth O'Connell BA '84 to discuss her favorite experience as part of Edinburgh Festival Theater USA-USC, returning to the Bing Theatre, advice for students and more.
---
Tell us a little bit about your professional background.
I recall, as we were all gearing up to graduate, we all had to make THE decision: stay in L.A. or tackle New York? I stayed in L.A. and I'm glad I did. L.A. theatre at the time, particularly Equity Waiver, was ramping up in its diversity and in promoting new work. It was such fun and gave me amazing opportunities to learn and grow, with one project leading right to the next. I've been fortunate enough to work with South Coast Repertory, East L.A. Classic Theater, Playwrights' Arena and The Open Fist Theater Company.

In 1999, I took a massive detour from acting for an opportunity in the fashion sector. It was an offer I couldn't refuse: living in London working with London Fashion Week and The British Fashion Council, among others. Such an exciting time in my life, and of course enjoying London theatre and the Edinburgh Fringe as always.

And now I'm back! And it's been so rewarding being back in the theatre fold. I was, am, and always will be an actress for hire.
What are you currently working on professionally?
Isn't it nice to be live and in person again? At the Open Fist Theater Company (where I'm a board member), we are working on a production of A Midsummer Night's Dream set in the Antebellum South. I think (hope and pray) this will really resonate. In particular, the board of OFT has been looking at casting policies and practices. Continuous evaluation is vital; we must never pump the brakes on that.
What was your best USC experience?
Without question, my best USC experience was not on campus or even in the country. Of course, it was Edinburgh Festival Theater USA-USC. We did a full repertory of Tennessee Williams plays and our musicals were Grease and Chicago. Getting Festival Theater back as part of USC SDA is something I would love to see happen and I know others do as well.
As far as ON campus experiences, I think some of my favorite memories are when we did our own thing. That newly discovered play, those "passion projects" that weren't selected for Experimentals… We just did them on our own and learned so much in the process. Off we would go and produce, cast, direct, publicize and perform. And prove so much; they really were excellent, if I do say so myself.
Now you call them ISPs, but back then we called it rebellion!
What do you miss about college, SDA specifically?
Being a college student means discovery, collaboration, project-based work and those emotional twists and turns that come with being a 18- to 22-year-old. Being a college DRAMA student means all this PLUS — lucky you — you get to keep it going, pulling these aspects with you as part and parcel of your profession. Our field is defined by our latest project, our collaborative efforts, and our heart and emotions are always front and center. What's to miss?!
Was there a class or professor that was particularly meaningful or influential during your time at the School?
SO many, but one does stand out. Our senior year, final semester, John Blankenchip taught a very special Tennessee Williams intensive class. Theater 495, I believe. Really delving into and dissecting Williams' life and work. Meanwhile… over in Cinema 495, a few select film school seniors were being taught by a special guest, the director Richard Brooks. Mr. Brooks had adapted for the screen and directed Cat on a Hot Tin Roof and Sweet Bird of Youth. Of course, Blankenchip saw to it that both these classes merged. What an experience! A dozen of us, hand-picked and feeling it, sitting in a room in Taper Hall. We listened more than we spoke — but when we spoke, we did so as actors, as directors and, yes, as academics. We could and did ask anything and everything. The melodrama doesn't get any better than that.
What (if any) productions did you work on?
All of them, it feels like! My very first production as an innocent freshman was the fall mainstage in Bing, You Never Can Tell by George Bernard Shaw. It was also the first directing project for W. Duncan Ross, who was the brand-new dean, so it was quite the event; reviewed by the Times, front page in Calendar, etc. I was the only freshman and the only BA to be cast so it was all uphill from there.
What was your favorite theatre at SDA? Why?
Without a doubt: Bing. It was the venue of my very first show, so a very seminal experience. Before the costume department moved in, the space below the stage was a vast and lovely Green Room to sit and concentrate and listen for your cue. Apologies for the ego, but sitting there waiting for "places," you felt like a real pro, like you had ARRIVED.
And trust me the Bing Theatre… it smells the same, so I always get this great Sense Memory thing happening when I visit.
What can students do during their training to prepare themselves for the professional world?
Gather round my wee 'uns and hear me: you have a Professional Development Center. A. Professional. Development. Center. What a wonderful resource! PLEASE take every advantage of this, of everything it has to offer and LISTEN.
***Gazing skyward, back of hand to forehead "Ah, if only in our day! What COULD we have become!"***
What lessons from your SDA training have you applied to your professional life?
Seriously, at least once a day I'm acting or playing a role — and I don't mean on stage. How lucky are we?! In professional and personal life, an actor's tools are invaluable. Thinking critically, evaluating a process, improvising a situation and being able to shift and shine. And, of course, empathy. How great to be able to work all these muscles! To have that at our fingertips is such a gift.