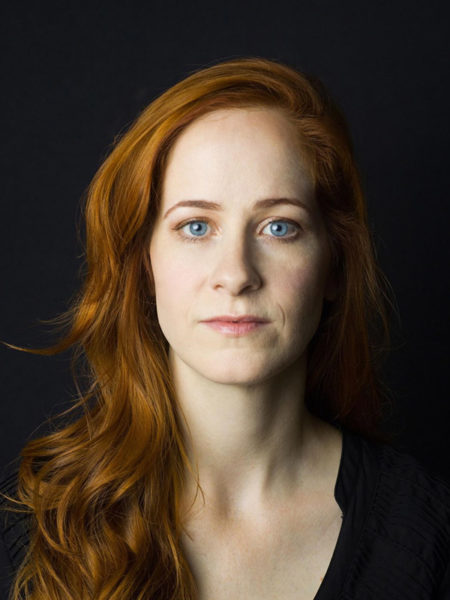 In our Alumni Q&A series, we caught up with actor and filmmaker Christine Weatherup BA '05 to find out what she thinks students can do to prepare for the professional world, what she misses about college and more.
About the Alum
Christine Weatherup is an actor and filmmaker based in Los Angeles. After graduating from USC, she booked commercial work and had the opportunity to work on campaigns with exciting directors like Bennett Miller. She has since built up her acting career with guest spots on television in shows like Watchmen, Westworld and Grey's Anatomy; and leading roles in indie features — including Bread and Butter, opposite Bobby Moynihan. All the while, she's been writing, producing, and/or directing content of her own — including an award-winning short, Killed in Action, and the webseries Squaresville, which Entertainment Weekly put on their "Must List."
---
SDA: What are you currently working on professionally?
Weatherup: Right before the pandemic hit, I was fortunate enough to wrap principal photography on my first feature as writer/director/actor. It's a romantic-comedy set at the same annual holiday party over the course of six years. Since wrapping production, we've been busy in post: editing, score, color and sound. We are planning on a holiday 2021 release!
What was your best USC experience?
It's hard to narrow it down to one experience because it truly was a magical time in my life. One of the greatest things that came out of it was meeting my No. 1 collaborator (and now husband!), who was studying in the cinema school.
What do you miss about college, SDA specifically?
The safety to experiment and find your voice is one of the greatest assets of college, particularly in an artistic field. During my time at SDA, I was able to experiment with many acting approaches and different roles without the same risks that you have when you're out of school. There's a support system and community that surrounds you and helps you find your voice. I'm grateful that many of those people are still in my life, but I do miss the consistency of seeing them every week!
Was there a class or professor that was particularly meaningful or influential during your time at the School?
I have to mention my advanced directing class taught by Andy Robinson. Andy has such a passion for the work and instills that same sort of curiosity and enthusiasm from his students. I was lucky to get to take his class as an undergrad. He inspired me to not limit myself and "only" act, but to also pursue directing. In Andy's class, the work was never done — one could always dig deeper into the work and uncover more questions, more ways to dissect the scene, more layers to the characters.
What (if any) productions did you work on?
I got to act in the MFA Playwrights new works showcase. It was a real highlight of my time in SDA — it was exciting to work on new material, but even more so, it was inspiring to work with the MFA playwrights. Chris Armogida wrote our play Big Night, and had been a TA for a class of mine. It was such a fun, dynamic play to bring to life and I really relished the chance to collaborate with Chris.
What was your favorite theatre at SDA? Why?
I did tech on a show at the Scene Dock, so I have a certain fondness for that space. There's an intimacy to that theatre and the plays that were put up at the Scene Dock tended to be more experimental and utilized a different setup with every show. Each play truly transformed the space and created a fresh, vital experience for the audience.
What can students do during their training to prepare themselves for the professional world?
Curiosity is your number one tool as an artist — as an actor, your curiosity to understand a character and delve into their life is at the center of every performance you give. But beyond that, a curiosity surrounding the business and your work is important. The world is always evolving and you must learn to adapt with it. When I graduated, so-called "new media" was emerging and the work I did in that medium helped me build my career and get bigger opportunities down the line. You never know the path that your career will take, but if you can maintain a curiosity in both the work and the business, I believe your career will be a fulfilling one.
What lessons from your SDA training have you applied to your professional life?
Preparation and practice are core values of SDA's education. These disciplines are essential for any professional life, but especially for an artist. Whether you are prepping for an audition or for a meeting with an agent, you should put your all into it without any promise of a result.