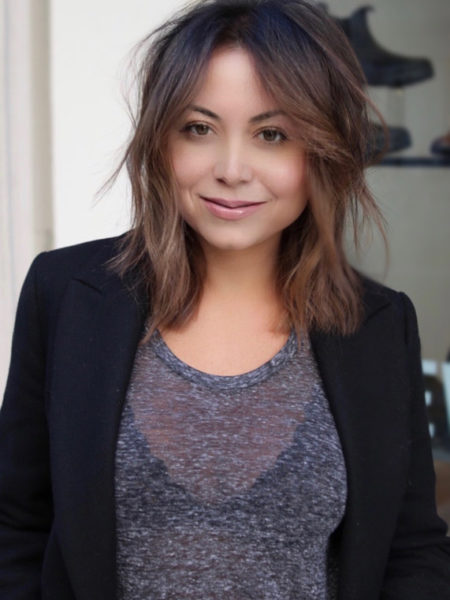 In our Alumni Q&A series, we caught up with actor, writer, musician and producer Azizah Rowen BA '00. The alum shares about her mentors at SDA, networking as a student and more.
About the Alum
Rowen is an actress, writer, producer and musician. She is a founding member of Workshop 360 theater company in L.A., was a mentor for the Young Storytellers in L.A., and was a member of NYWFT (New York Women in Film and Television). As a producer, she has produced off-Broadway plays in conjunction with WET (Women's Expressive Theater) — including Brooke Berman's A Perfect Couple at the DR2 in NYC. As a writer, she has been a contributing writer for Mother.ly since launching in 2014, Beyond Mom, and the Huffington Post. Her play was performed in NYC at the Strawberry One-Act Festival. She is a contributing writer of the recently published book, This is Motherhood. As a musician, her songs have been featured on ABC's Switched at Birth and the feature film Women and Sometimes Men. She is a member of SAG and Equity.
---
SDA: Tell us a little bit about your professional background.
Rowen: I started working professionally as an actor and musician as a child. My first job was when I turned six years old. After working on and off through childhood, I focused on getting my degree in theatre and film from USC. After college, I have continued to work as an actor, writer, musician and producer.
What are you currently working on professionally?
Like a lot of artists, I work project to project so whatever presents itself as an opportunity while also fulfilling my creative spirit. Since lockdown, I have focused more on writing (I write for a media company called Mother.ly and am also a contributing writer on the book called This Is Motherhood). I have been working on my own memoir as well.
What was your best USC experience?
Oh wow. So many amazing experiences at USC, it was one of the best times of my life. Working with Jack Rowe, my mentor and teacher at school, definitely highlights college for me. Specifically being cast in the show Angels in America as the angel. It was a life changing experience. I also made many of my best friends from that show who are still my closest friends to this day.
What do you miss about college, SDA specifically?
Everything! Truly! I was inspired everyday. I loved learning and collaborating with other artists. I loved being busy doing shows and every part of the process of a production. The theatre has always felt like home. I miss it. 2020 has been the longest stretch of time I can recall having not been on a stage or sat in a theatre, and it's a little soul crushing.
Was there a class or professor that was particularly meaningful or influential during your time at the School?
Lora Zane and Jack Rowe were not only my professors but also my mentors and friends. I love them both and still keep in touch with Zane to this day. I was honored to have spoken at Jack's memorial [in November]. I would not be who I am if it wasn't for both of them; they both gave me the confidence to succeed as an artist and I'm forever grateful.
What (if any) productions did you work on?
Oh wow! So many. Angels in America, Barbarians and The Crucible were quite memorable. I remember one time, Paula Vogel came to speak to the entire School of [Dramatic Arts] and I was able to work with her on stage at the Bing from an excerpt of Hot 'N Throbbing. It was a surreal and magical experience.
What was your favorite theatre at SDA? Why?
The Scene Dock Theatre. That theatre was so special to me because it's where we did Angels.
What can students do during their training to prepare themselves for the professional world?
In my humble opinion, get a car and start hustling in the real world right away! I wish I had worked even harder. I was very focused on getting my degree, which is the most important, but it's also important to try to get work and network as soon as possible. It's absolutely attainable to do both at the same time.
What lessons from your SDA training have you applied to your professional life?
SDA gave me the tools to thrive as a professional artist. The training was unparalleled, as was the networking. The whole experience was incredible, and if I could take a time machine back to those four years, I would do it in a heartbeat.