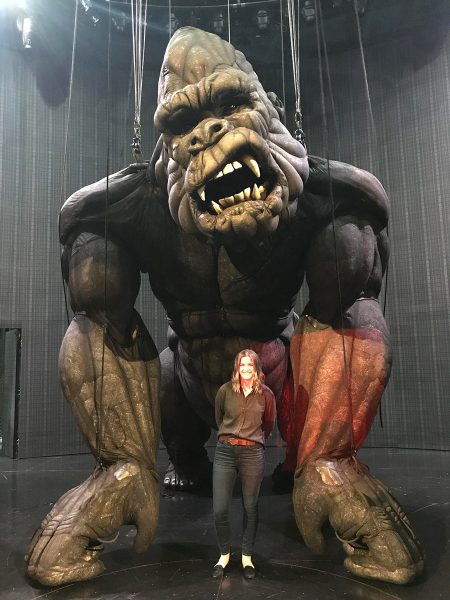 The School of Dramatic Arts briefly caught up with alum Alice M. Pollitt BFA '15 for our Q&A series highlighting the accomplishments of the alumni of the USC School of Dramatic Arts.
About the alum
Alice M. Pollitt's experience is mostly on Broadway, including currently as a stage manager on King Kong. Other Broadway shows include A Bronx Tale, American Psycho, Noises Off and Aladdin. Also recently, she stage managed the first national tour of Finding Neverland, as well as regionally for Disney Theatrical Group; Berkeley Repertory Theatre: Monsoon Wedding, Amélie; The Public Theater; New York City Center Gala: Brigadoon; and Westport Country Playhouse. Other memorable events include The 69th Annual Tony Awards, Netflix, Hulu and Condé Nast.
---
SDA: What was your best USC experience?
Pollitt: The best part about stage managing at USC was the amount of shows I was able to get under my belt. With the vast amount of SDA productions in addition to the ISP shows, I was able to get a lot of experience making mistakes in a low pressure environment while gaining confidence before going out to the professional market.
SDA: Was there a class or professor that was particularly meaningful or influential during your time at the School?
Pollitt: When I think back on the professors during my time at SDA, there's one professor that always shines bright. I had only one class with him, but he was also the director of my first PSM assignment at the beginning of my sophomore year, the late Paul Backer. He was such a gentle and wonderful spirit to be around and was the only faculty member that went to every single performance of not only every SDA production, but every single ISP show. He was such a supporter of the students and did all he could to help them succeed. I remember during our audition process for the production we worked on, 12 Ophelias, he called back almost everyone who auditioned just so he could give the students the opportunity to go through a proper callback process and help them develop their auditioning skills even if he knew they wouldn't be cast.
SDA: What do you miss about college, SDA specifically?
Pollitt: There's a very unique camaraderie that develops when you're working on a student production in a university setting. The passion seems a little more pure and less jaded because you chose to work on a project despite the fact that you were already impossibly overbooked. I remember the late nights painting sets in a sad, black box theatre until 2 a.m. until we were delirious. As much as it felt like a pain at the time, those late nights scrambling to get everything done were some of the most memorable. There was also a lot of pizza, which helped.
SDA: Can you highlight your favorite SDA and ISP productions you worked on?
Pollitt: The productions I look back on most fondly during my time at USC would have to be two ISP productions that I production stage managed: Peter Pan, Or the Boy Who Wouldn't Grow Up and Sweeney Todd: The Demon Barber of Fleet Street. Peter Pan was a very artistic and creative interpretation of the play that I really enjoyed seeing come to life. Our director, Zach Kaufer, set the play in an art studio where the narrator (an insinuated descendent of Wendy Darling), was an artist whose paintings would come to life as she retold her family's passed-down tales complete with Native Americans wearing headdresses made from paint brushes, dancing set to contemporary music, and flying sequences throughout the show.
Because Sweeney Todd was such a formidable challenge for an ISP to mount, it became so gratifying to complete and witness the audience's reaction. I have a soft spot for the show and the music, so it was a joy to work on the material, but I was in awe of how our group of students sourced and built such a large and stylized show from which our entire company took such intense pride. This was my first experience with the ISP group, Musical Theatre Repertory, which became one of the largest learning experiences I had during my college career. I went on to production manage and produce shows for MTR, as well as become president my senior year. In short, my MTR experience was an invaluable part of my education at USC. It not only allowed me to pursue my love of musical theatre, it gave me a deeper, hands-on appreciation for the challenges and complexities of this unique form of theatre.
SDA: Tell us about your most recent gig with King Kong?
Pollitt: King Kong has been a unique journey to say the least. It's a show that rehearsed in a way I had never been exposed to before where our stage management team was split up between two spaces. We had rehearsals in a dance studio with half our cast while concurrently having rehearsals in the theatre with the other half of the cast (the King's Company/Voodoo Operators who handle the puppet) so they could get their hands on the puppet ASAP. That's how we rehearsed for five weeks before joining forces in the theatre for tech, which was about four and a half weeks long instead of what I was used to on Broadway (10-14 days max). During previews, we did changes all the way leading up to the days before opening night, not leaving any musical number or book scene untouched by changes by the time we opened. To this day, we are over 100 performances into our run and I will still sing old lyrics that have been cut for months. I think when you help give birth to a new show, all the music that was rehearsed becomes part of the soundtrack you associate with your production, even though it may not have made opening night.
SDA: What has been your most memorable/meaningful professional experience so far since graduation?
Pollitt: Surviving nearly four years in New York and making my way in a very tough business.
SDA: What is your advice for current SDA students?
Pollitt: Always say "yes." You may get an offer on a gig that isn't exactly what you want, but it may lead you to an introduction or experience that pays off in the long run. I was trying to break into Production Assisting for Stage Managers in New York when I was offered a child guardian/production assistant position on a show that was rehearsing in New York. Though it was predominantly a child guardian position, I took the job. That connection with that production stage manager has set up almost every job I've had after that experience because of her recommendation every time someone has reached out to her for a reference. She gave me one of my first jobs in New York at the bottom of the ladder and she was the one who recommended me for my assistant stage manager position on King Kong when they were looking for a position to fill. So, you never know, always say "yes."