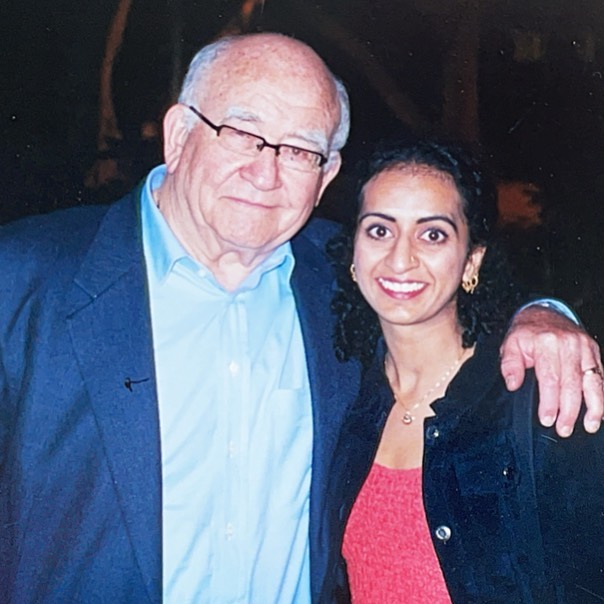 For #SDA75, we're looking back on our fondest memories, from alumni, students, parents, faculty, staff, donors and friends. This one is by Shivani Thakkar BA Acting '05, posted on Aug. 30, in memory of industry legend Ed Asner after his passing.
Yesterday we lost a legendary actor and an incredibly kind and generous artist, Mr. Ed Asner. In my junior year at The USC School of Dramatic Arts, I had the rare opportunity to learn from Jason Alexander, who was a George Burns visiting professor that year. The scene study class I was in culminated in a showcase where Jason invited industry professionals and close friends.
Ed Asner was amongst the distinguished guests, and I had the honor and privilege of performing for him. I did a monologue from Jean Anouilh's "Antigone." It's a fun, passionate, charged monologue, in which I left my heart on stage. Asner shared the kindest of sentiments to each performer at the end of the show, and I recall feeling blessed in my journey as an actor by his presence and warmth. This is a memory I have cherished over the years. I feel deep gratitude towards Jason for his mentorship and for bringing Mr. Asner's presence into our lives for an evening that resonated deeply with us as young and blossoming artists. May dear Mr. Ed Asner rest in peace.
---
Share your memories with us!

To help celebrate our 75th anniversary, the School of Dramatic Arts is collecting memories from our community to share during our year-long celebration. Submit your stories from your time at SDA through words, images or videos. #SDA75