For #SDA75, we're looking back on our fondest memories, from alumni, students, parents, faculty, staff, donors and friends: this short story was submitted by Michael Cantor BA '70, and includes a review of the production submitted by Michael Moore BA '67.
Missed cue
In the spring of 1970, John Ritter and I were double cast as Riff in the musical West Side Story at the University of Southern California (USC). Professor John Blankenchip was the director and made the artistic decision to double cast the leads, which created two separate productions. The supporting cast members performed in both productions. A spring musical at USC ran for six nights. One cast performed Monday, Wednesday, and Friday; the other Tuesday, Thursday and Saturday. It was a fantastic show, and most of the twelve-hundred seats were filled every night at Bovard Auditorium.
I must have practiced my two solos, "Jet Song" and "Cool" hundreds of times prior to opening night. West Side Story is a classic musical based on Shakespeare's Romeo and Juliet. It's a standard for young people to perform in high school and or college. Every time I hear the overture, I get goose bumps, which included before each of my live performances.
On opening night, I made the musical gaffe of all time. I'm on stage doing dialogue with my Jet gang. Based on line cues from the actors, the orchestra starts the intro to my song.
I started singing, "When you're a Jet you're a Jet all the way…" one bar or four beats prior to the actual time it was supposed to begin.
A very talented actor in the cast was Joel Polis. He was one of the Jets and was standing next to me when I started the song. He knew immediately that I was not in time to the music and tried to get me in sync, to no avail. The orchestra was not about to stop and start over, and unfortunately [n]either was I. Joel and the rest of the Jets followed me as best they could in the choreographed number.
Immediately following the debacle, I met with Joel backstage. I realized I missed the orchestra cue and messed up the song. I thanked him for trying to get me back on track, but I was like a snowball going downhill, with no options for stopping.
I was offstage for a while before my next scene, so I vented a few choice expletives in the moonlight that echoed off the exterior walls of Bovard Auditorium.
I was so irritated. How could I work so hard for a part in a musical I loved so much and screw it up on opening night? I took a few deep breaths to refocus my energy and went back to perform the rest of the show. Except for my very stupid blunder, opening night was a fantastic success.
The next day, director Blankenchip realized I wasn't given a baton lead-in by the orchestra leader. On stage, an actor can always shoot a glance to the orchestra pit to see the orchestra leader tip his baton ever so slightly towards the stage actor at the exact moment he or she is supposed to sing.
It was one of those tiny details that got missed in rehearsals, because no one ever missed the music cue… until I did… on opening night.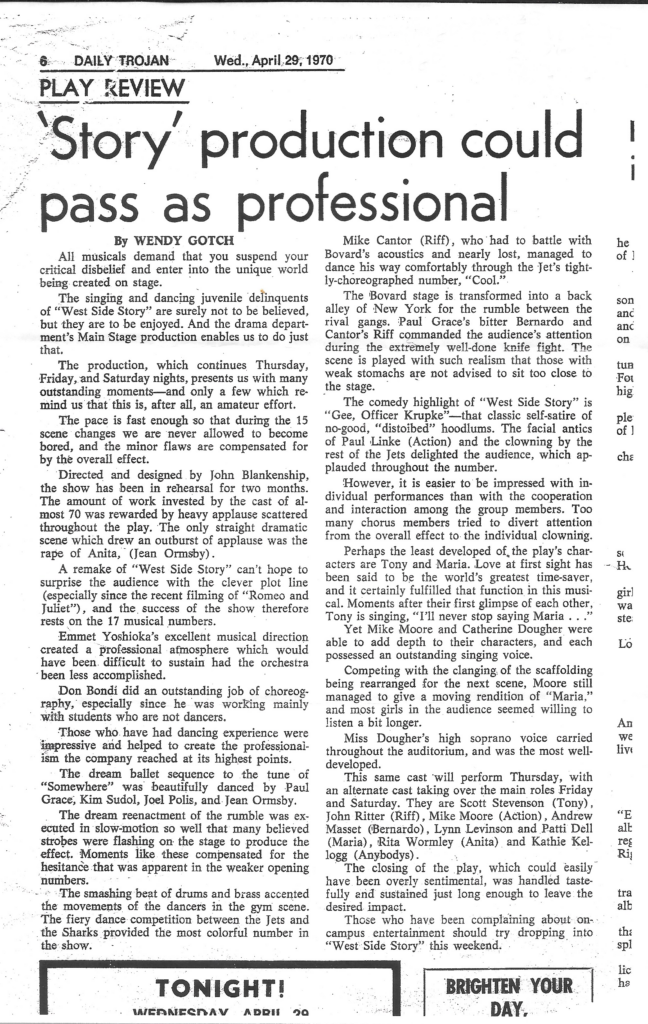 ---
Share your memories with us!

To help celebrate our 75th anniversary, the School of Dramatic Arts is collecting memories from our community to share during our year-long celebration. Submit your stories from your time at SDA through words, images or videos. #SDA75