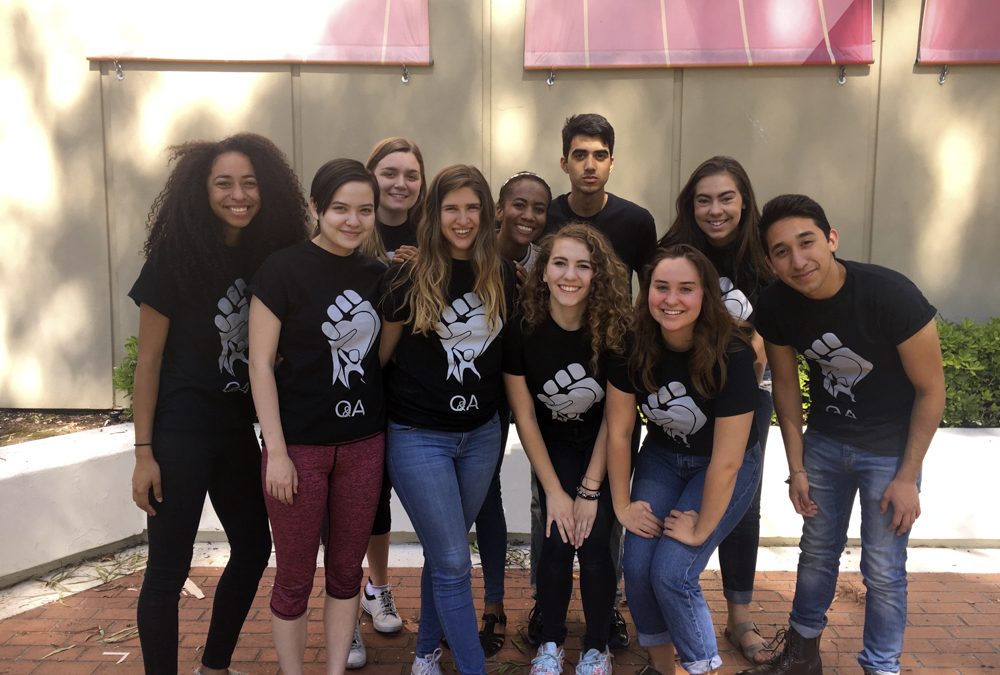 While there are many different theatrical organizations for SDA students to be involved in, Jasmine Hayden (BA '17), felt there was something missing: "…none of them addressed social issues or used art as a means to bridge gaps in the community…" So, she founded the One & All Social Justice Theater Company in Spring 2016. From classics to original works, One & All fosters constructive conversations regarding race, gender, class, sexuality and identity.
Taking inspiration from the theatrical form of Theatre of the Oppressed, the organization uses art as a means of social activism, and includes the facet of audience participation as "spectACTORS."
Hayden recalls how the performances have impacted audiences because of their participation, as well as the nature of the content. At a talkback at the performance of The Sex Show, an audience member was moved to tears because she had a similar experience to what was expressed in one of the vignettes. The impact of the conversations and mentalities are not limited to spectACTORS, but also the organization's members. "Not only have they become more critically engaged thinkers, but they have also grown by learning and advancing in improvisation skills, Theatre of the Oppressed techniques, and strong ensemble collaborative work," Hayden says.
One & All's impact has also reached beyond the SDA community. Aside from their workshop at last year's SDA Diversity and Inclusion Summit, One & All has participated in campus-wide events in support of organizations like AIM for Mental Health, the Center for Women and Men's Sexual Assault Task Force to create PSAs and with the LGBT Resource Center for a staged reading of A Memory, A Monologue, A Rant, and A Prayer.
One & All has accomplished much since its founding last year, and has more on the horizon. Although Hayden graduated last May, she hopes through more events and workshops in the future that One & All will "remind us of the power we have in the choices we make."
—By contributing writer Sophia Spirus
Story appeared in the 2017-18 Callboard magazine.