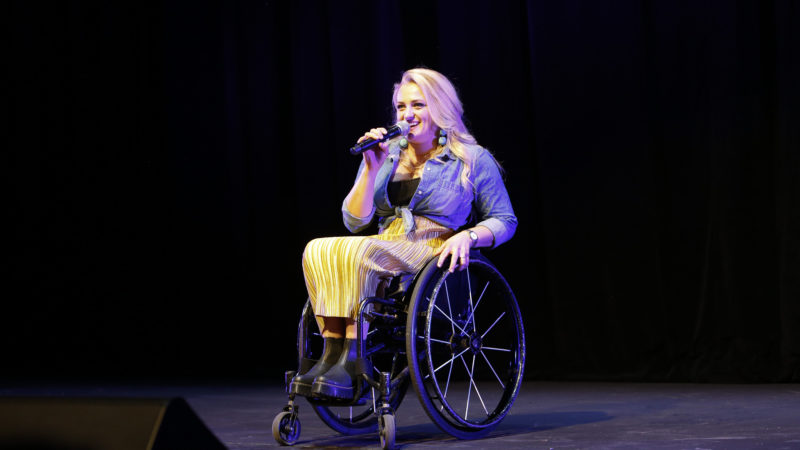 Tony Award winner Ali Stroker visited campus at the end of the fall semester for Turning Limitations into Opportunities: An Evening with Ali Stroker, presented by USC Visions & Voices. Stroker is currently performing as Ado Annie in the Broadway revival of Oklahoma!, which closes Jan. 19.
Along with performing songs like "Be a Lion" from The Wiz and "Here's Where I Stand" from the film Camp, Stroker shared her personal story — including a childhood memory of using her imagination to cope with her most difficult setbacks. She also recalled her experience in college as the only person in a wheelchair in New York University's musical theatre program, which raised doubts about her abilities and her place within the school. Stroker went on to defy the odds, including taking dance classes alongside her classmates. This was inconceivable for her dance professors, she recalled, since they had no idea how to teach a student in a wheelchair.
Now, in her professional career, Stroker — who hopes to one day originate a role on Broadway — prefers to play roles that do not focus on her disability. Rather, her goal is to show audiences that people with disabilities are more similar to them than different.
At the peak of the evening, Stroker performed "I Cain't Say No" — a number sung by her character, Ado Annie, from Oklahoma! It was her performance in this role that made Tony Award history: She became the first person in a wheelchair to win an award (Featured Actress — Musical).
Stressing the importance of taking a limitation and turning it into an opportunity, Stroker challenged members of the audience: "I was the first, you can be the second or the third. No excuses."