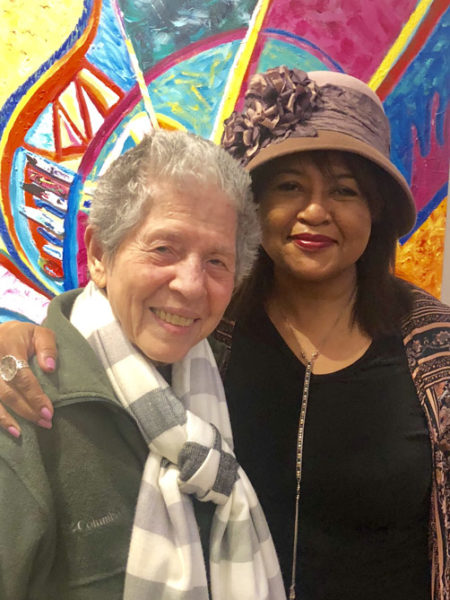 Joan Beber MFA '00 remembers well the drive it took to earn her Master of Fine Arts in Dramatic Writing at the age of 67. The tests. The late-night writing sessions. And, yes, the actual drive itself: traveling the 405 freeway three times a week between USC and her home in San Diego.
"I was knocking myself out a little," Beber, now 87, concedes. "But there are always sacrifices. I've always been serious about what I've studied. I was going to do whatever I had to do to get that degree."
View this story in the digital version of the 2020-21 Callboard magazine.
Beber credits her time in the MFA program with sharpening her writing, making her art more inclusive and emboldening her to reach out to others in the playwriting community. Twenty years after earning her degree, Beber remains a working playwright, as well as a poet, pianist and composer. Family dynamics are a frequent source of inspiration in her plays; her most recent off-Broadway production, Dear Jane, (2017), explored her fractured relationship with her twin sister.
The playwright thinks often of her USC family, too.
She established the Joan Beber Playwriting Award, to be given annually to an MFA in Dramatic Writing student who best fulfills the program's mission — someone developing their craft and engaging society in a meaningful way.
"We're so grateful that Joan created this award to support emerging playwrights as they prepare to transition into the profession," says Velina Hasu Houston, who is a USC distinguished professor, director of the MFA in Dramatic Writing, head of undergraduate playwriting and resident playwright at SDA. "I particularly love that this award takes into account how one pursues their art to contribute to society in some way. In our rush to create fine artists, we sometimes leave behind the humanity of the artist. This award recognizes both aspects of the theatre maker."
Second-year MFA Dramatic Writing student Katrina RiChard is the first recipient of the Joan Beber Playwriting Award. Before coming to USC, she spent 12 years in Chicago as a high school history teacher and professional stage actor. As her acting career progressed, she became frustrated by a scarcity of engaging and challenging roles, especially for women of color.
"I just got tired of seeing the same old things on stage," RiChard says. "There weren't a lot of roles that were nuanced, layered and complex, especially for Black women. So it became a charge to myself: If you want something different, you better write it."
She fell in love with playwriting and eventually dedicated herself fully to the craft. RiChard entered the dramatic writing program in 2019. She says earning the Joan Beber Playwriting Award felt like a validation of her decision to pursue artistry full-time.
"Just the fact that they read my work and found value in it, that's so affirming," RiChard says. "As artists, it's not about the awards themselves. It's the affirmation. It's knowing that someone else besides me gets what I'm trying to say. As artists, we make up these characters in our minds that talk to each other, we see colors and pictures that don't yet exist, listen to these voices in our heads. So when someone outside of your mind — outside of this creative world you've imagined — says they see it, says they get it, that's the affirmation we need."
Winning the award also provided her with something just as valuable — financial peace of mind. As a first-year student, RiChard had three jobs: substitute teaching, driving a USC bus and working the graveyard shift as a picker at an Amazon warehouse. The award enabled her to drop the Amazon job, giving RiChard more time and energy to advance her craft.
"I'm so thankful Joan Beber created this award," RiChard says. "The fact that she did this as an alumna shows that she knows the value of this program. This award speaks to the character of Joan Beber, of course, but it also speaks to the excellence of the MFA and what our faculty are doing here."
This story originally appeared in the 2020-21 issue of Callboard magazine, the USC School of Dramatic Arts annual publication for its alumni, parents, students and friends.