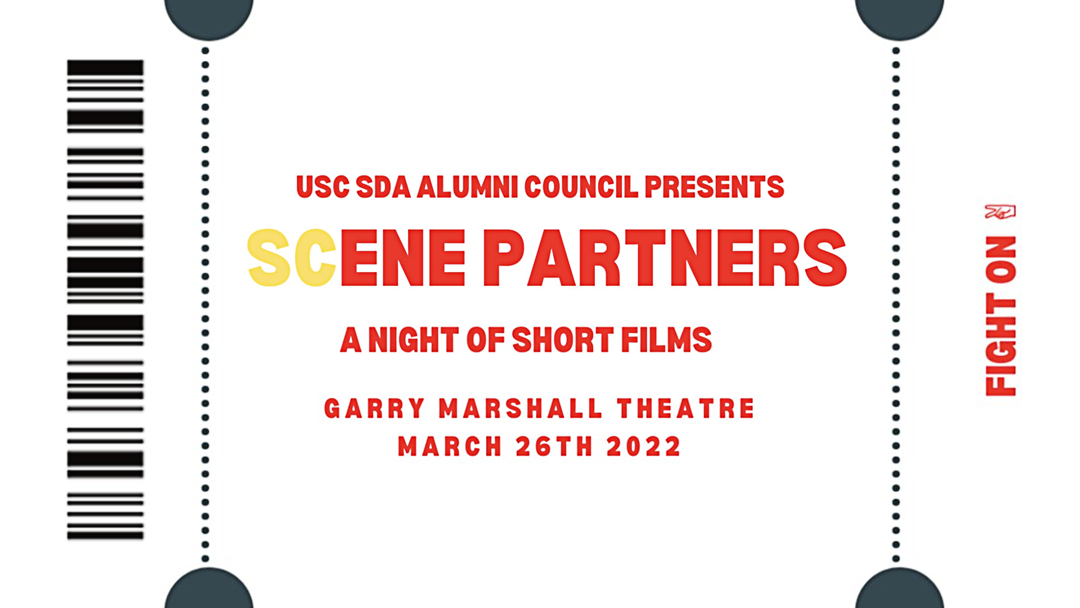 SDA alums have been writing, directing, producing and acting in short films and digital media for years. But until this week, they have not had a showcase to share their creative efforts with other alums.
"SCene Partners: A Night of Short Films," to take place March 26 at the Garry Marshall Theatre in Burbank, is going to remedy that. It's the brainchild of two founding members of the SDA Alumni Leadership Council (ALC), Adrienne Visnic BFA '14 and David Fickas BFA '96. The two, who will emcee the screenings, said the new event builds on the ALC's SCene Partners programs – conversations with alums organized around a theme, such as being a director or working on Marvel projects. Those events began in person several years ago and have been held online for the past two years.
"One of the best things that's come out of SCene Partners is having alumni meet face to face and getting to know others from all these different years," said Visnic. "It's direct interaction with people in the entertainment industry regardless of your age and regardless of what you're currently doing as opposed to what you were doing in school."
The program, which begins at 7:30 p.m., will last about an hour and a half. It will include at least one world premiere (Apart/Together, a short film by Jesse Einstein BA '10), a sketch comedy series (Mary Kate and Ashtray by Daniel Montgomery BA '07 and Riley Rose Critchlow BFA '14), a dramedy (Almost Winter, written by and starring Daniel Rashid BA '15), a comedy that's part of the Arguably Funny YouTube channel (Mygramptum by Clay Elliot BFA '08), a film set in an Amazon fulfillment center (Fulfillment, written and directed by Marisa Coughlan BA '96), and a short about two youngsters in a desert that takes a shocking turn (Boys, written by David Mandell BA '14). In addition, there will be trailers of other alumni projects, TikToks, music videos, podcasts and more.
The focus is on recent work, with one notable exception: George Lucas in Love, an infamous 1999 short co-written by Tim Dowling BA '96 that was a spoof on Shakespeare in Love. The short was widely seen, even by Lucas, and opened doors in Hollywood for its creators.
"I said we have to let newer SDA students know this is out there," said Fickas.
The 110-seat Garry Marshall Theatre (formerly the Falcon Theatre) is where SDA student showcases have been held and many alums have performed. "It's kind of SDA adjacent," said Fickas. "It's a warm place for SDA students and alums to come and do a show or cut their teeth."
As SDA offers wider course offerings and students increasingly expand their entertainment skills, moving from the stage to writing to film production to voiceover work to digital projects, it only makes sense that alums' creative efforts follow suit.
Fickas, who has a production company, Drama ¾ Productions, and works in film, television and digital; and Visnic, a singer and actor also skilled in graphic arts, are examples of SDA multi-hyphenate alums. They have seen, through past SCene Partners events and alumni happy hours organized at legendary watering holes around Los Angeles, how valuable it is for SDA alums to share work experiences.
People can be so nervous about the word 'networking,' but a night like this gives you the chance to connect with your fellow creatives," said Visnic.
"It can be such an independent career, but at the end of the day, you can't do it without other people. And we have a really good, good community to do that with."