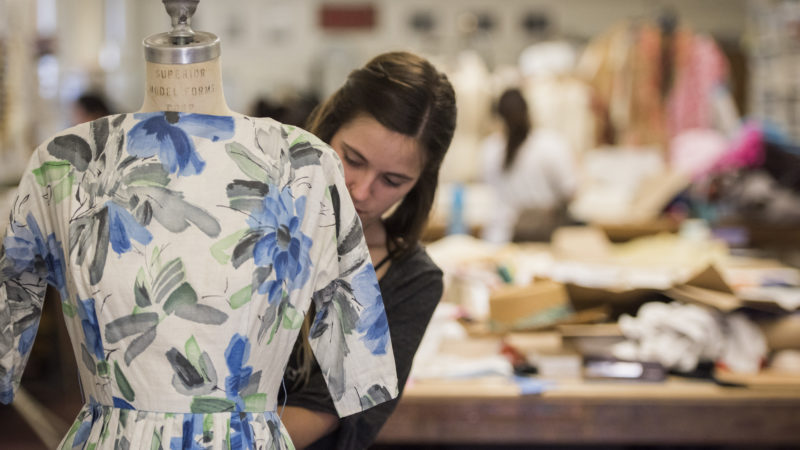 USC Summer Institute for Costume Designers

南加州大学戏服设计师暑期学校


Monday, July 6 – Friday, July 31, 2020


2020年七月6日星期一至七月31日星期五

Due to the current COVID-19 situation, the school leadership has made the decision to cancel the USC Summer Institute for Costume Designers for Summer 2020. Please check back with us later this year for information about Summer 2021.

由于目前的COVID-19情况,学校领导已决定取消2020年夏季南加州大学夏季服装设计师协会。请于今年晚些时候与我们联系,以获取有关2021年夏季的信息。
---
Come to Los Angeles for an intensive four-week summer training program in the heart of Hollywood. Learn how to design and construct costumes for the theatre, film and television industries. Outings to museums, the garment district, and theatres immerse participants in the culture of Los Angeles.
来洛杉矶参加为期四周(four-week)的高强度暑期培训课程,就在好莱坞的中心地带。学习如何为戏剧、电影和电视行业设计和制作戏服。参观博物馆、成衣区和剧院,沉浸在洛杉矶的文化中。
Classes are taught in English, with a Mandarin translator, by the internationally-acclaimed faculty of the USC School of Dramatic Arts. The School's faculty of working artists are experts in their field and have an intimate understanding of the industry.
课程由南加州大学戏剧艺术学院享誉国际的教师讲授,英语授课,配有一名普通话翻译。学院的在职艺术家师资队伍是各自领域的专家,对行业有透彻的了解。
Program Fee $3,910 (U.S.) 课程费用3910美元
Housing Plan (additional/optional): $1,632 (U.S.) 住宿(额外/可选):1632美元
Meal Plan (additional/optional): $1,160 (U.S.) 伙食(额外/可选):1160美元
Applications due: March 25, 2020
申请截止日期:2020年三月25日
For further questions, please contact renawang@usc.edu.
如有其他疑问,请联系renawang@usc.edu。
---
Course Descriptions
课程包括
Introduction to Western Costume Design 西方戏服设计导论
Overview of the course; periods and styles; the function of costume design in drama
课程概述;时期和风格;戏服设计在戏剧中的功能
A History of Costumes 1 戏服史1
Focus on 14th through 17th Century costumes, including the Renaissance, Baroque and Rococo
重点介绍14至17世纪的戏服,包括文艺复兴、巴洛克和洛可可风格
A History of Costumes 2 戏服史2
From the 18th to the 21st Century, covering the Romantic and Victorian periods, 20th Century artistic revolutions, and the first decades of the new millennia
从18世纪到二十一世纪,涵盖了浪漫主义和维多利亚时期、20世纪艺术革命以及21世纪初期
Introduction to Costume Construction 戏服制作入门
Learning the machinery in the costume shop; hand sewing
在戏服车间了解机器;手缝
Building a costume; working on patterns, cutting chosen fabrics, sewing, fitting and adjusting
制作戏服;处理花样,裁剪选定的面料,缝纫、试衣和调整
How to draw fabric renditions, how to paint draped fabrics, using new media tools for drawing
如何进行面料渲染,如何绘制悬垂面料,使用新媒体绘画工具
---
Tentative Schedule