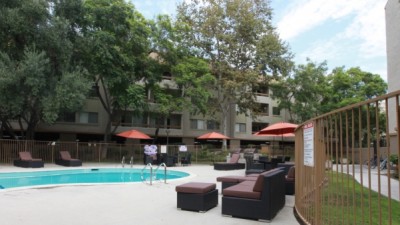 Summer 2017
Century Apartments
Comprised of two large buildings surrounding a central open area with a lawn, pool and customer service center, Century is an excellent choice for an apartment close to campus. It offers air conditioned units with double occupancy bedrooms.
Features & Amenities
Residents can enjoy a central recreation room with a pool table as well as two large flat screen TV, lounge seating and vending machines. For outdoor fun, there is a swimming pool with barbecue area, basketball and beach volleyball courts and a large grassy area.
Convenient to both the Lyon Recreation Center and Café 84, Century is just across Jefferson from campus and has a Customer Service Center on site.
Students may choose to share a room with another program participant or have a private room. Housing is not mandatory.
There is a required apartment meal plan for all students with USC housing. Meal plan includes breakfast, lunch and dinner.
All housing fees are non-refundable unless we are unable to reserve a space for you or your visa is denied. All housing and meal prices are estimated and may change without notice.