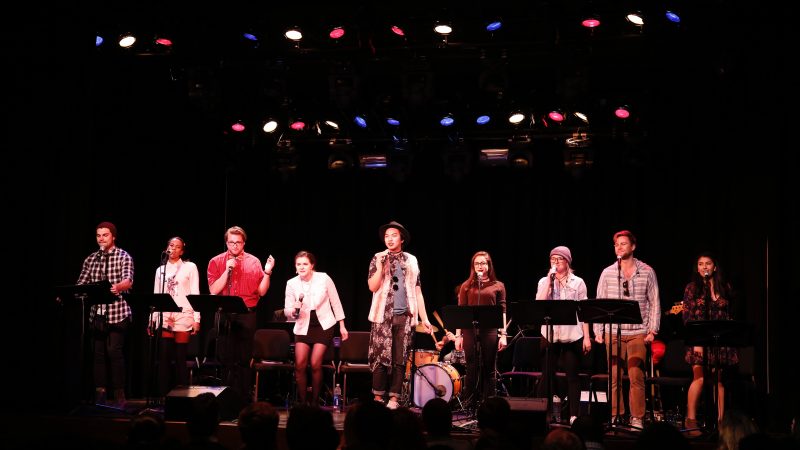 2018-2019 Application
LiveRead@SDA is a developmental reading series produced by the USC School of Dramatic Arts and was launched to cultivate and provide critical support for the creation of innovative and contemporary new works for the American theatre.
Professional artists are invited to weeklong workshop residencies on the USC campus, where they can take bold steps towards refining their work with an incredibly diverse talent pool. The School of Dramatic Arts provides the necessary resources and staff to produce a concert-style reading in one of our campus theatre venues with professional photography and video of the performance.
LiveRead@SDA affords students an invaluable opportunity to work with industry leaders—producers, directors, playwrights, lyricists, composers and choreographers—while gaining insights and practical experience in what it means to intensively workshop new musicals headed toward commercial production.
What LiveRead@SDA Provides
Shows selected for the development series receive a week-long residence that culminates in concert-style reading that includes:
Two full performances in one of our on-campus theatre venues
A university casting process for auditions and callbacks with accompanist
Stage Management (SM and ASM) that work according to AEA guidelines
Sound Designer, complete sound package (concert setup)
Lighting Designer, lighting package as dictated for the venue
20 hours of rehearsal (includes tech)
Professional photographer for one performance
Professional videographer for one performance
House management according to venue
University PR and dramaturgical feedback survey follow-up
Printed event programs
Economy round trip airfare for up to two of the project collaborators, if not residents of California
Additionally, we will contract a director, music director and up to three professional musicians if requested or provide a stipend for those creative teams wishing to source their own LA-based talent
Project Selection & Guidelines
We are currently selecting one or two new musical projects per academic calendar that illuminate a forward-thinking landscape of contemporary musical theatre with narratives from creative teams who authentically demonstrate diversity in their work. We actively support both emerging and established artists and musical projects that are not traditionally defined in the world of commercially produced theatre.
We are particularly interested in projects that reflect the cultural landscape of Los Angeles and/or character breakdowns that are comprised of roles that can be realistically played by college students.



How To Apply
Complete the online application and upload your materials electronically. The submission fee is $40. All submissions for our 2018-2019 academic year must be received by September 1st, 2018. You must be 18 years of age and have the right to work within the United States.
The musical must be complete with a full script and 75% of the score complete at the time of submission. The project must not have had a professional production or be currently scheduled to have a professional production in 2018, but may have received prior workshops or readings.
Adapted works that are not in the public domain must provide written documentation and permissions for full underlying rights clearance of pre-existing material used.
Writers-in-residence must be available for all rehearsals and performances.