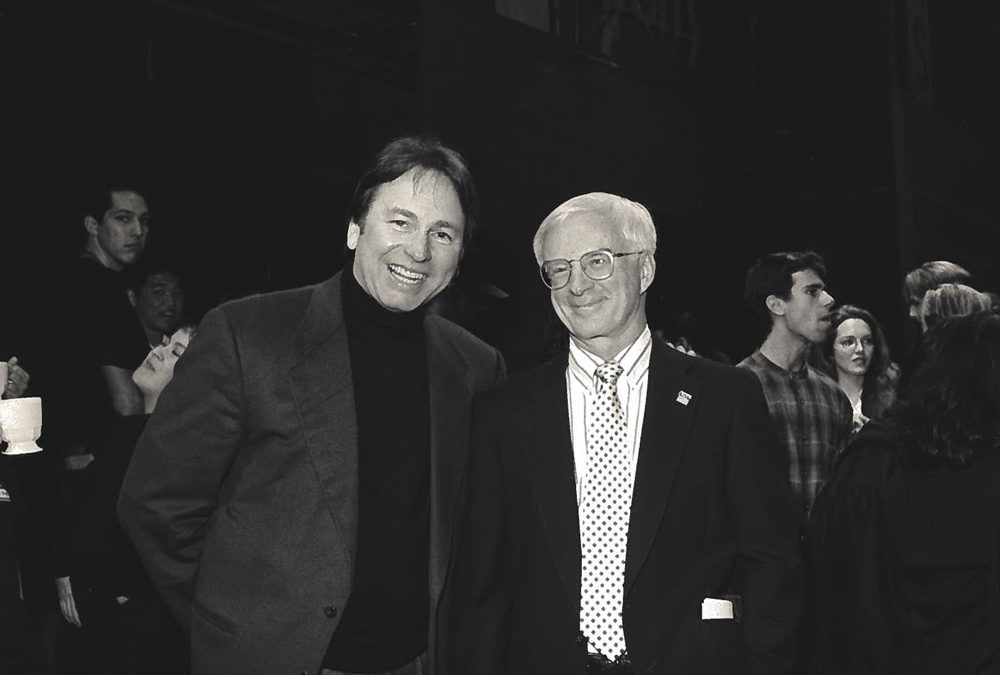 Robert R. Scales was a leading man at USC on two distinctly different stages.
For his first starring role, the internationally acclaimed theatre designer and technical director had a 10-year run as dean of the School of Dramatic Arts.
Today, the 74-year-old School of Dramatic Arts ranks 10th in the world, according to The Hollywood Reporter. But when Scales was recruited as dean in 1993, the program was in disarray. There were whispers of shutting it down.
"Bob laid the foundation for the current scope and success of the School," says David Bridel, SDA's current dean and holder of the Braverman Family Dean's Chair. "And in his warmth, kindness, and unwavering devotion to USC, he modeled qualities of leadership that continue to resonate today."
After two terms, Scales stepped away from his deanship in 2003. A vigorous 68-year-old, he was looking forward to returning to his theatre design consulting practice and living half the year in Connecticut. His wife's illness upended those plans. Battling both emphysema and early dementia, Suzanne Grossman-Scales felt happier in Los Angeles, so the couple moved into McCullough Townhomes, a USC faculty housing complex at 30th and Hoover streets.
And Scales threw himself into his second leading role at USC — reimagining how emeritus faculty and retired staff could more fully participate in Trojan life. As director of the Emeriti College through 2008, and later as the Emeriti Center's volunteer associate director, Scales seeded a culture of inclusiveness and collaboration not previously seen among USC retirees.
"He felt very strongly that many good things could be done after you're finished working full-time. He talked about it on our panels for people transitioning to retirement," says Janette Brown, assistant vice provost of the Emeriti Center, which serves as the umbrella organization for both faculty and staff retirees.
According to Brown, Scales coined the center's motto, "colleagues for life" — which captures, she says, "the spirit of collegiality, cooperation, of coming together to do good work for the university and the community that Bob helped create."
A dramatic difference
Stephanie Shroyer saw first-hand how Scales transformed what was then the USC School of Theatre. Founded in 1945 as a drama department, it had only become an independent USC school in 1991. Recession brought deep budget cuts that same year. As dean, Scales established fiscal order while recruiting a cadre of working professionals to join the faculty. They would go on to redefine theatrical standards at USC.
"Bob was an avid believer in having the theatrical artistic world of Los Angeles be reflected in what was happening at USC. He saw everything that he could possibly get out to, with an eye toward building up his faculty and staff," says Shroyer, who is now SDA's artistic director, associate dean and director of the BFA program.
Shroyer and Jon White-Spunner were among his first recruits. At the time, she was artistic director of the Venice-based Pacific Resident Theater (PRT), and he was its managing director. This was shortly after the Rodney King riots, and PRT's creative duo were eager to start a community-based professional theatre with a strong educational mission in South Central Los Angeles. When Scales heard of their project, he connected them with like-minded theatre professionals Debbie Devine and Jay McAdams. The foursome, with enthusiastic support from Scales, would go on to found 24th STreet Theatre, now an established L.A. arts institution with close ties to USC. Scales also introduced them to real estate investor and USC alumna Anne-Merelie Murrell, owner of the 1928 carriage house that was to become the new playhouse.
"It was an empty garage," says Shroyer. "Bob was there on the ladders. He would come weekends and nights. The theatre was all built on elbow-grease, our little band of merry players getting the permits, finding donations." It was Scales who acquired the vintage seats, recycled from a lecture hall newly renovated at the School of Dentistry. It was also Scales who screwed down each of the 99 tablet-arm chairs to their platforms. And he secured the USC Visions and Voices grant that helped finance the first season in 1997.
In his enthusiasm for 24th STreet Theatre, Scales occasionally broke the rules of the trade, and even bones. One time, Shroyer recalls, he was alone in the theatre working on the light grid atop a 22-foot ladder, "which he shouldn't have done," she notes, with amused disapproval. Compounding the danger, he was recklessly "jumping the ladder."
The forbidden maneuver involves straddling the ladder while holding on to the overhead lighting rails and hopping over to the next position. Scales missed, fell and shattered his heel that day.
"He was well into his 70s when that happened," the associate professor of theatre practice says, "but he just kept right on going. Even in his orthopedic boot, he just kept working. If there was a call to help build the set, he was the first one there."
Acts of generosity
"I will always and forever be grateful to him," says writer-producer Anthony Sparks, BFA '94, MA '09, PhD '12, of Scales.
Sparks is executive producer and showrunner for Ava DuVernay's acclaimed dramatic series Queen Sugar, now in its fourth season on the Oprah Winfrey Network. He has more than a hundred other TV writing and production credits.
Sparks attributes to Scales two separate acts of generosity that had a profound impact on his career.
The first came in his senior year, shortly after Scales took the helm as dean.
Sparks, who graduated near the top of his BFA class, had landed a summer internship at the prestigious Williamstown Theatre Festival. Having been nominated for an academic prize, he was counting on the small stipend to cover his road trip and living expenses in Massachusetts. When the prize didn't materialize, Scales got involved. "It was a devastating blow," Sparks recalls. "I had no money. Bob Scales saw that, and he knew my situation." The dean — in a time of fiscal belt-tightening, it bears noting — scraped together a special $1,000 prize for two outstanding BFA seniors. Sparks was one of them.
"Not a lot of money," he says, objectively, "but it was a lot of money to me. That gift literally launched my career." Without it, Sparks says he would have had to decline the Williamstown internship. When the festival ended, he went on to play Cordelia in a gender-reversed production of King Lear at New York's Public Theater and then a six-year run in a starring role with the Broadway musical STOMP.
Ten years later, Scales helped Sparks at another crossroad. By then an established New York stage actor and emerging writer, Sparks was toying with the idea of returning to USC for a doctoral degree in American studies and ethnicity. At the same time, he was pivoting toward a career in television production and writing. And he was newly married. He called the retiring dean for advice. Not only did Scales encourage Sparks to pursue this difficult intellectual-and-artistic balancing act, but he wrote a letter of recommendation and set up meetings for him with key faculty across the university.
"Again, this was a transitional moment in my life and career, when Dean Scales stepped in and helped me get to the next rung," says Sparks.
"He was just a wonderful, wonderful man whose humanity shined through."
The melding of creative and intellectual processes, he says, has greatly benefited him. Today, he straddles the academic and the entertainment industry, just as Scales did.
When he isn't on location in New Orleans with Queen Sugar, he teaches screenwriting and culture studies at Cal State Fullerton, and he is married to Anita Dashiell-Sparks, SDA associate professor of theatre practice and associate dean of equity, diversity and inclusion.
Just extraordinary
Asked to describe Scales in a few words, Shroyer offers these: "Quiet, infinite strength and belief, and humble, so humble. Just extraordinary."
Few colleagues realized how important Scales really was, though the design and technical faculty and staff at SDA revered him. Duncan Mahoney, an associate professor of theatre practice and head of technical direction, once described Scales as the Mick Jagger of the technical theatre world. The Odyssey Theatre's former technical director was another of Scales' seasoned-professional faculty hires.
After he stepped down as dean, Scales stayed involved with the School.
"He was at everything. Just always there, a quiet support," says Shroyer. "He never made a fanfare of coming, but you'd look across a sea of faces and there would be Bob's beautiful, shining, white hair."
It makes perfect sense, she adds, that he got involved in the Emeriti Center after retiring.
"Bob was all about connections," Shroyer says. "He never wanted anybody to lose contact. Who could he put together? How could he be a conduit for emeritus faculty to continue to be an active part of this university?"
These were the questions that occupied Scales' retirement years.
Sprinting in retirement
"Bob was the kind of person who worked behind the scenes to get things done," says Brown, who was also a close friend. "He was a strong leader. Confident, but soft spoken, always respectful. He put together teams."
Brown served on more than one such team — the last being the caregiving team that looked after Scales during his difficult, four-year battle with multiple myeloma.
She had seen Scales take on the role of caretaker with playwright Endesha Ida Mae Holland. As dean, he had recruited the Pulitzer-nominated playwright to USC's faculty. Holland subsequently became gravely ill and took early retirement. When she ran out of money, Scales took it upon himself to arrange for nursing home care. He watched over Holland until her death in 2006, and even paid for her gravestone. He did this as he was also caring for his wife, who passed away in 2010.
All the while, Scales was a fixture at theatrical productions on campus and around town, continued his theatre design consulting work, and poured his remaining energy into 24th STreet Theatre and the Emeriti Center.
"He was a space planner and a techie, so he made sure we had all the equipment we needed for giving presentations — microphones, sound systems, digital tools," says Brown, who has headed up the Emeriti Center since 2005. It was Scales who built the contact database for retirees. He also greatly expanded the center's academic arm, which grew to more than a hundred lectures and short courses for retirees on his watch.
Brown was at his side when Scales passed away. She, too, lives in the McCullough Townhomes complex, where Scales remained after his wife's death. Last year, his grandson moved in to help. Together with several other close friends, they kept daily watch as Scales' health declined. "The last two years were very difficult for him," Brown says.
Between revolving hospital admissions and rehab stays, the team would mobilize to help Scales do what he loved most: follow his alumni and students on the stage. Scales attended performances right up to the end. Three weeks before his death, he took in shows at the Kirk Douglas Theatre and at his beloved 24th STreet Theatre.
"We had a strategy," Brown says. "I would drive way to the very front and get him out of the car, and somebody would get him into his seat. He had very little energy. He had to rest before going to the theatre, then come back and go right back to bed."
Few people realized how sick Scales was. "He was private in that way," says Shroyer. "And Bob Scales just seemed invincible. It was so normal to see Bob at shows."
Brown sums up the man this way: "He cared about people. He was just a very generous, non-judgmental person. … many people loved him dearly."
This story appeared in the 2019-20 Callboard magazine.