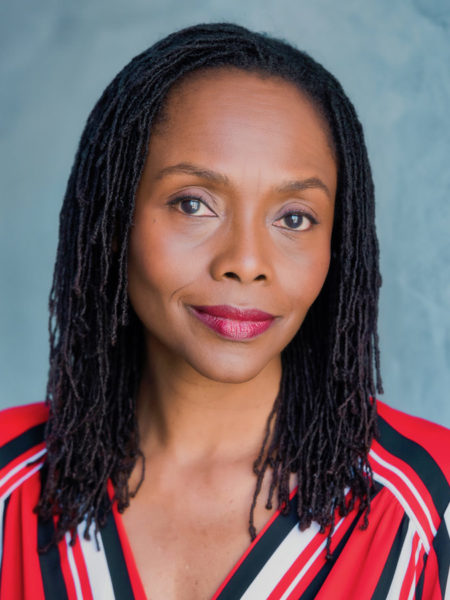 Biography
Inger Tudor is a faculty member at the USC School of Dramatic Arts. She is a graduate of London Academy of Music and Dramatic Art, Harvard College and Harvard Law School. She is a member of The Road Theatre, Rogue Machine Theatre and Theatre of NOTE and and a guest artist with A Noise Within and Antaeus Theatre Company.
As an actress, Tudor's notable credits include Silent Sky (Arizona Theatre Company), the national tour of Steel Magnolias (LA Theatre Works), The Suppliant Women, Honky, Stop Kiss (Rogue Machine), Antigone (A Noise Within), Diet of Worm, Slither (Chalk Repertory), Going to St. Ives (Actors Coop – LA Stage Scene Award, Stage Raw and NAACP nominations for Best Lead Actress), What May Fall, Just Say No, Food for Fish (NOTE), The Exorcist (Geffen Playhouse), Stuff Happens (Mark Taper Forum), The Maids (Stage 54 – 4 NAACP Theatre Award nominations) and Romeo and Juliet: Antebellum New Orleans, 1836 (Boston Court – NAACP Theatre Award nomination – Best Supporting Actress). Her television credits include: The Trial of Tim Heidecker, Goliath, The Young & the Restless, House, General Hospital and Without a Trace. Film credits include: Voodoo Macbeth (a USC co-production with Warner Brothers), On Time (Best Actress Awards – Ikuska Flm Festival, Spain and Grand Off Film Festival, Poland), Elizabeth Blue, Lemon, Stairways, The Social Network, The Lost One, Rule of Three and The Making of "Grits" (Mockumentary Festival – Best Actress Award).
As a voice-over artist, Tudor's credits include voicing projects for LA Theatre Works radio plays, audiobook narration (The Grim Sleeper: The Lost Women of South Central, Engineering Infinity – Deyan Audio), a stint as the announcer for Divorce Court and descriptive narration for the blind for film and television through WGBH.
As a director, Tudor has also helmed productions for LA Theatre Works and other Los Angeles theatres including The Road Theatre, Rogue Machine Theatre, Theatre of NOTE and Actor's Co-op. She has also directed independently produced plays, performance showcases and staged readings.
Education
London Academy of Music and Dramatic Art
Harvard College
Harvard Law School