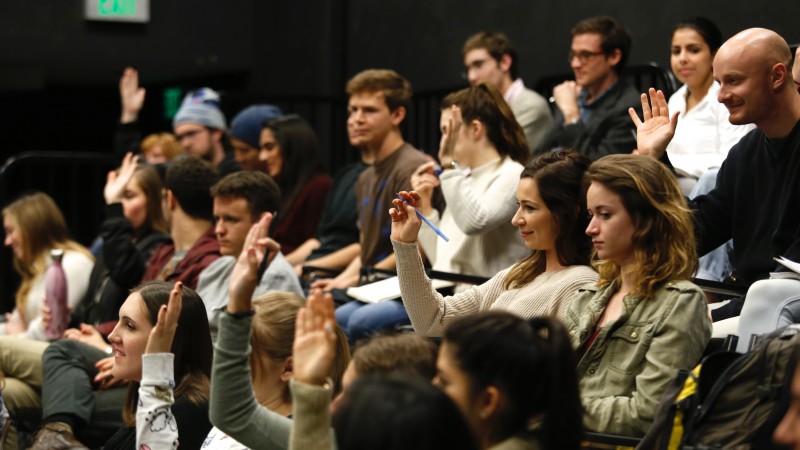 The USC School of Dramatic Arts has partnered with Center Theatre Group, LA STAGE Alliance and the UCLA School of Theatre for a unique professional development opportunity, the CTG Going Pro Career Fair.
Undergraduate and graduate-level college and university students are invited to attend the CTG Going Pro Career Fair on Saturday, April 2, 2016, at the Los Angeles Theatre Center from 11 a.m. to 5:30 p.m.
The fair will feature tables hosted by LA STAGE Alliance, the Actors Fund, Actors Equity and graduate programs from USC, UCLA, Claremont Graduate University and CSU Long Beach. There will also be five free workshops, one-on-one mentorship sessions, a networking mixer, hosted by USC, and free refreshments throughout the day, courtesy of UCLA. Members of IATSE Local 33 and Local 706 unions will be in attendance to take students' applications for union membership.
Participants are welcome to stop by at any point during the fair; however, students are encouraged to RSVP in order to guarantee a spot in workshops. (Workshops are for current college and university students only.)
The schedule for the fair is as follows:
11 a.m.
What I Wish I'd Known: Professional Acting
12 noon
What I Wish I'd Known: Professional Playwriting
1 p.m.
Working in Los Angeles Theatre
2 p.m.
Do I Need Graduate School
3 p.m.
Being a Multi-Hyphenate Theatre Artist
4:30 to 5:30 p.m.
The day concludes with a networking mixer. Hosted by USC, the mixer will give students the opportunity to meet with professionals and ask them questions, make connections and learn about what it's like to work in L.A. theatre.
Students may participate in 20-minute, one-on-one mentorship sessions with theatre professionals who serve as everything from dramaturgs to costume designers to casting directors. Professionals will review students' resumes and portfolios, and give advice about the students' professional careers. To sign up for a mentorship session email cschenkkan@centertheatregroup.org.
To RSVP for the CTG Going Pro Career Fair, students can email StudentBody@CenterTheatreGroup.org with the following details: the student's full name, school and year, and which workshops he or she would like to attend. Those who RSVP prior to arrival will receive a free gift.